High rise window cleaning service including: glass, aluminum, aluminum frame, aluminum spokes… of tall buildings in Ho Chi Minh City, Binh Duong, Dong Nai: PROFESSIONAL – METICULOUS – SAFETY – PRICE MOST COMPETITIVE.
You need to clean the facade, exteriors of buildings, offices, high-rise hotels, high-rise buildings, factories… including: window, glass, aluminum frame, aluminum, aluminum spokes, billboards…. please contact to us, TKT company – the best service in high rise window cleaning service. With Professional – Meticulous – Safety – Competitive price, we have implemented so many cleaning services for high-rises building for customers in Ho Chi Minh City, Binh Duong, Dong Nai, Long An Province…:
Hotel: Majestic, Bông Sen Saigon, Moevenpick…
Bank: Agribank, Techcombank, Indovinabank, Đông Á,
Factory: Masan group,  Rhoto, Nitto Denko, Johnson & Johnson
High rise office: Saigon Port, Mekong Tower, Itaxa Tower, HD Tower, HCMC Women magazine Building
Trade building: Lotte Cinema, Tous les jours, Packson Flemington, Harley Davidson
With the best appreciations of the our customers that the high-rise window cleaning service has been serving, we believe will satisfy you. Please feel free to contact us:
Phone: 028.66.830.930 or 028.66.830.931
or email: [email protected]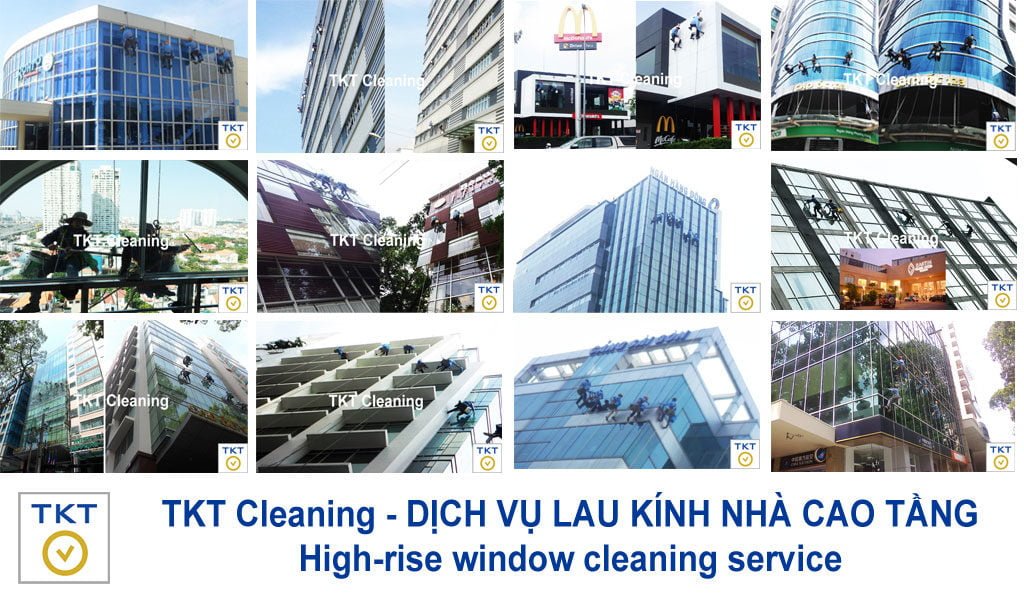 Image: high rise window cleaning service: glass, aluminum, frame, board outside, advertising board
---
1.  Introduction window cleaning service of TKT
High rise window cleaning service also known as glass facade, glass facade cleaning service facade… Apart from the main task of the glass facade cleaning of buildings often include many of other items may include:
Wipe the glass, Aluminum, aluminum frame, aluminum spokes 

Stone facade
Signs, logos, billboards
Wash walls of tall buildings
Silicon waterproofing
Window, glass of buildings, office buildings … especially tall buildings should be cleaned or maintained each 6 months, or 1 year for three important purposes:
Clean the window, glass after construction, bringing elegance, modernity and wealth for buildings, offices and buildings. 

Clean the glass regularly to help prolong the life of the glass, especially the expensive tempered glass panels. Because acid, dust ion, long days will stick to glass blur, opaque, even glass corrosion.
Returns for beautiful colors of glass, aluminum, stone wall
TKT, Cleaning service company specializes in industrial cleaning of facades, facades for skyscrapers, buildings, offices … We do not just clean the glass high-rise buildings, we also offer our customers a total solution for cleaning facade, face up. With staffs, cleaners training focuses on discipline, safety and meticulous when working on high. All employees are insured safety, work at height certifications, have enough experience to execute the construction of tall buildings hygiene difficult.
Therefore high rise cleaning services of TKT company have done ​​a lot of big projects, high-rise buildings in Ho Chi Minh City, Binh Duong, Dong Nai, Long An, Vung Tau … and very much satisfied fastidious partners from Japan, the U.S., South Korea and the chain stores, hotels, fashion shops. Customers choose us by: PROFESSIONAL – METICULOUS – SAFETY – PRICE MOST COMPETITIVE
2. Window cleaning service procedure
Customers may refer to our cleaning procedures:
Step 1: Preparing cleaning area
Step 2: Preliminary clean glass and frame
Step 3: Clean glass and frame using chemicals
Step 5: Clean up
3. Quotations high rise window cleaning service
[sc:quotation_tkt ]
Video about high-rise cleaning service
TKT Cleaning, we are looking forward to become a close partner of high-rise cleaning service of customers
[sc:contact_tkt ]
Customer evaluation our window cleaning service