Are you looking for 🔎 commercial building cleaning services for shopping malls, supermarkets, convenient supermarket chains, shops, showrooms… in Ho Chi Minh City in 2022? You want to create an environment ✔️ Clean ✔️ Tidy ✔️ Improve shopping experience ✔️ Increase customer retention rate?
Let's learn the following article to get the most appropriate answer.
1. What is the commercial building cleaning service of shopping mall, supermarkets, shops?
1.1. The role of hygiene in commercial areas, supermarkets and shops
Appearance is everything!
This is where the activities of buying and selling products and providing services take place. Customers when going to supermarkets and shopping centers need to focus on finding, experiencing and using the products they want.
Enhancing the shopping experience of customers in supermarkets by providing a clean and safe environment for them to choose and buy products is extremely important.
Mall cleaning services, supermarket need to ensure that your customers will enjoy their shopping experience and keep coming back more again.
Supermarkets, Shopping malls have many different sizes such as:
Shopping malls, commercial centers
Hypermarkets, large supermarkets, medium supermarkets
Shops, sales agents (vehicle sales) car, motorbike, furniture..)
Convenience store (small supermarket)
Shop in the mall
1.2. What do commercial center and supermarket cleaning services do
Cleaning service in this establishment needs to be guaranteed Clean the areas:
Common areas such as: equipment, tables, walls, floors, display areas, counters, storage rooms or bathrooms, toilets.
Special areas for food such as: butcher, fish, bakery, deli, seafood. Maintaining cleanliness, germ-free, disinfecting, and disinfecting is extremely important.
Especially areas in commercial centers, supermarkets, shopping malls always have high traffic.
You can read more about what supermarket and commercial area cleaning services do through their daily work below:
Sweeping and mopping stairs and hard surfaces in common areas
Cleaning interior glass
Sweeping floors (if store offers floor polish) .
Clean hallway windows and window frames
Clean and organize meeting areas
Horizontal dust
li>
Highly dusty areas
Disinfect and clean bathrooms
Replenish soap and paper
Put out the trash and replace bin liners
Vacuum carpets and doormats
Clean lights, fire extinguishers, and exit signs
Translate specialized cleaning service (detailed dusting of shelves and other general cleaning).
Outdoor cleaning of parking areas in front of the supermarket building (dumping and sweeping).
Receipt and Disposal of Garbage
Dispose of waste in the waste bins in front of the store and in the parking area.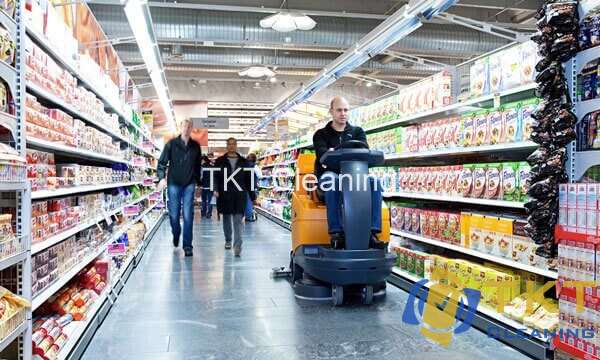 When you need cleaning services for shopping malls, supermarkets, a cleaning company can be trusted. TKT Cleaning Services specializes in providing services to businesses in of all sizes.
Experienced and reliable
Meet all your cleaning needs for supermarkets, mall during shopping hours, or after shopping time.
Please contact TKT Cleaning or see more below to know more about us.

---
2. Introducing TKT cleaning services for shopping centers and supermarkets in 2022
2.1. Who are we?
TKT Cleaning Shopping Center Cleaning Service in Ho Chi Minh City provides a variety of cleaning requirements and solutions in Ho Chi Minh City and neighboring provinces such as Binh Duong, Dong Nai, Long An, Ba Ria Vung Tau…
Our cleaning service helps shopping mall clean, tidy, safe and hygienic… at the most economical cost. This allows you to maximize your focus on core business issues.
2.2. Our Commitment
Supermarkets, commercial areas are frequent places of customers, so it is extremely important to keep it neat and tidy. Because it will directly affect the reputation of the business. So why choose TKT Cleaning industrial cleaning service to accompany:
TKT Cleaning is rated as

commercial center cleaning service

, the leading supermarket in Ho Chi Minh City. We have proven ourselves to be the best, leading company in the industry providing cleaning services for supermarkets, commercial areas in HCMC and surrounding areas.
Our main objective is customer satisfaction. And the success has been proven over the past 10 years.
Our cleaning team is professionally trained and competent in providing services to achieve the desired results. .
2.3. Areas we serve?
As one of the suppliers shopping center cleaning service, supermarket leading, we provide cleaning services in Ho Chi Minh City, Binh Duong, Dong Nai, Long An, Binh Phuoc, West Ninh, Ben Tre, Dong Thap, Tien Giang, Binh Thuan, Ba Ria Vung Tau, Lam Dong, Da Lat, Ninh Thuan, Khanh Hoa, Phu Yen, Dak Nong, Dak Lak, Gia Lai, Kon Tum, Quang Ngai, Binh Dinh, Quang Nam, Bac Lieu, An Giang, Soc Trang, Tra Vinh, Vinh Long, Phu Quoc, Ca Mau, Kien Giang, Da Nang
Our pursuit of perfection has helped us to grow steadily each year. Our primary focus is on listening to our customers, understanding their cleaning needs and providing the best supermarket cleaning service:
Save time and money: hire professionals instead of wasting your time and money.
Specialist tools and equipment: tools specialized cleaning will give you better results.
Skilled and trained staff: a top cleaning company with highly skilled staff.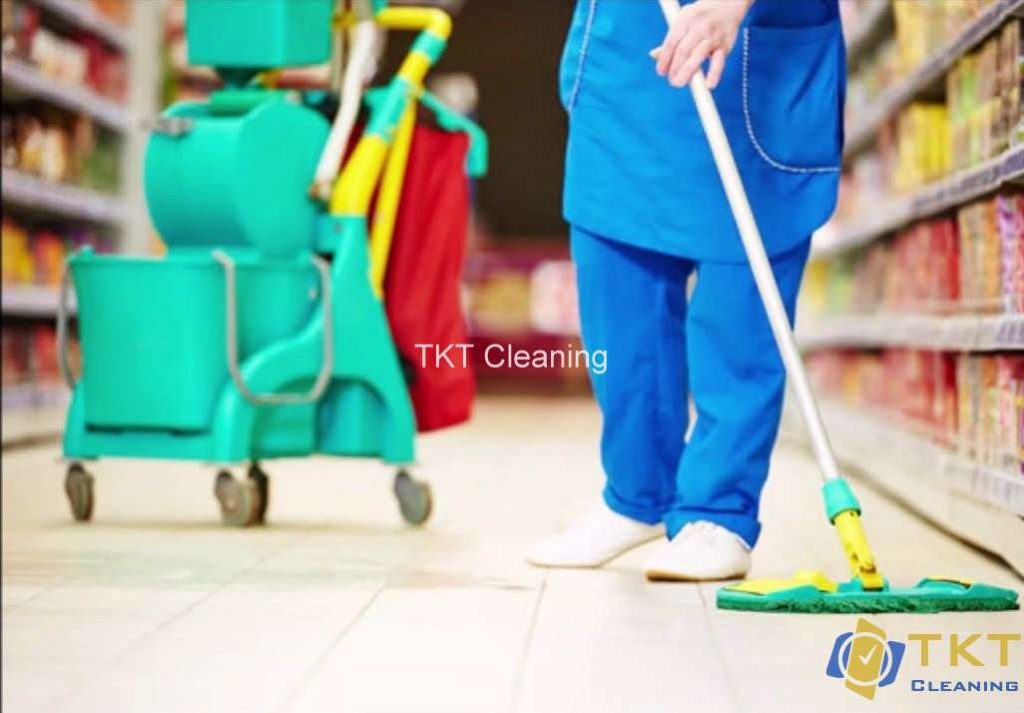 2.4. Experience in providing commercial center cleaning services of TKT Cleaning
According to studies by National In-Store and MARC Research, nearly 30% of customers change their shopping behavior if a store is not as clean as they would like. At the same time, 14% say they completely stop visiting a store if it doesn't meet their standards for cleanliness. After more than a decade of cleaning grocery stores, we can prove that clean stores attract more customers.
2.4.1. Building customer retention rate at the mall
Shops, stalls, shopping malls in malls, hypermarkets in the retail industry have to go through a series of extremely difficult challenges when it comes to maintaining clean floors, stores tidy and hygienic food preparation area…
With us, the experts at TKT Cleaning specialize in helping stores maintain floor hygiene, sales areas, and goods preparation areas clean and tidy to achieve operational efficiency together. highest motion. Together maintain customer retention rate up to 98% with cleaning company shopping center , TKT Cleaning supermarket.
---
98%
Customer retention
---
2.4.2. Understanding special hygiene requirements in commercial areas
Working experience of TKT Cleaning in commercial areas , services, shopping malls, supermarkets, grocery stores, display booths, cosmetics, convenience stores… have helped us understand the needs of our customers.
Already accustomed to working overtime, overtime, odd hours and tight work schedules… even in the face of wet and stormy days, we help commercial areas and supermarkets radiate brightest with proud cleanliness, orderliness.
2.5. Strengths in cleaning activities of commercial centers and supermarkets of TKT Cleaning
2.5.1. Floor cleaning service in shopping centers
From carpeted areas to traditional hard floors and polished concrete, TKT Cleaning has the skills and experience to clean and maintain any floor system. Besides the hard floor cleaning service generally, we provide even the most in-depth, necessary floor maintenance services for All customers of shopping malls, supermarkets including:
See also: all the intensive services provided by TKT Cleaning
We've designed all of our cleaning and maintenance services to not only improve the look of our floors, but also provide long-lasting protection that keeps them shining for years.
At the same time, we continuously improve cleaning and maintenance techniques to help clean floors quickly, saving customers time and money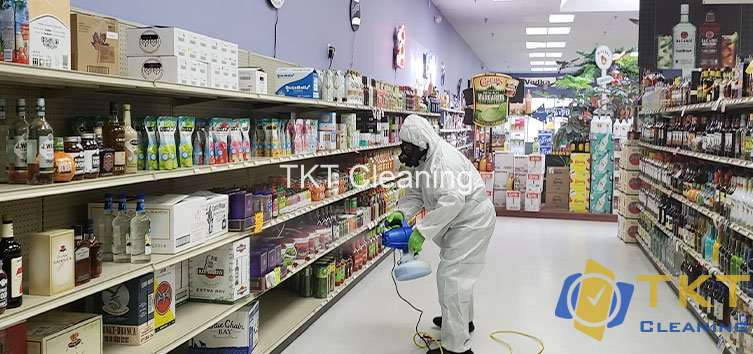 2.5.2. Cleaning and disinfection service
When you operate in the food processing industry, customer safety is at the core of your organization's priorities. For grocery stores with food preparation areas, maintaining a sanitary space is critical to ensure the safety of both customers and employees.
TKT Cleaning makes it easy to make sure you're taking the necessary precautions to ensure food safety with our comprehensive mall cleaning services.
Our experts specialize in cleaning, disinfecting and maintaining deli, bakery and food areas in establishments of all sizes. Whether your facility requires daily, weekly or hourly cleaning… we can handle all of your cleaning needs, allowing your team to focus on what they do. the best: making delicious food for customers.
2.6. Why choose the leading commercial center and supermarket cleaning service in Ho Chi Minh City TKT Cleaning.
We pride ourselves on our cleaning services and are committed to meeting your needs. We make sure everything is done right.
Cleaning Services for Malls, Retail Stores, Supermarkets… TKT Cleaning Will Improve Your Customers' Total Shopping Experience
Whether You Are operating a shopping mall, supermarket or car dealership… TKT Cleaning has the most suitable package service, you will get:
Dedicated and experienced support to handle Handles all hygiene challenges and supports other activities: cleaning, storage, card issuance…
Experience in cleaning food areas, catering business: butcher, shop bakery, deli, seafood.
TKT Cleaning provides daytime, evening and night cleaning services for supermarkets
Ready to serve you 24/7 /365 days of the year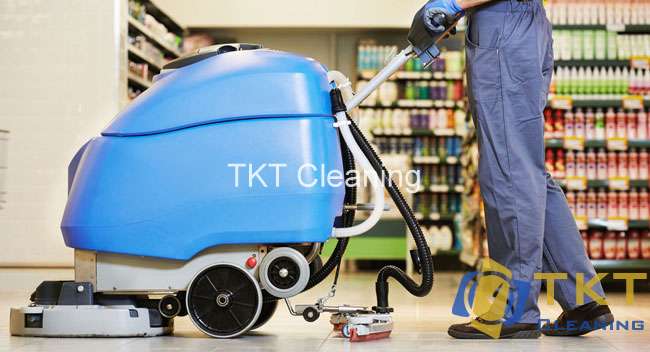 TKT Cleaning specializes in retail cleaning in car dealerships, supermarkets, department stores and more. Invest in your store's future by choosing TKT Cleaning's professional cleaning services for commercial areas, retail stores, supermarkets, shopping malls, etc.

---
3. Quotation for cleaning services of commercial centers in 2022
The commercial and service area is always a complex area with many different needs. Therefore, the service quote depends on the following key factors:
Number of daily cleaning staff, hourly cleaning staff
Special periodic cleaning requirements and frequency
Hygiene requirements other special facilities (maintenance, support, overtime, hourly…)
Disinfection requirements
Waste disposal requirements
Request to take care of the landscape, trees
Depending on each facility TKT Cleaning will provide the most suitable solution packages and quotation of cleaning services.
Please refer to the quotation of providing daily cleaning staff for supermarkets and commercial areas:
3.1. Quote to provide cleaning staff for supermarkets and trade centers.
The price quote for the provision of preliminary daily cleaning staff is as follows (the fee does not include chemicals, tools, taxes and other costs)
1 employee: 7,200,000 VND/employee/month
2 – 4 employees: 7,000,000 VND/employee/month
5 – 10 employees: VND 6,800,000/employee/month
11 or more employees: VND 6,600,000/employee/month
1 Maid
Excluding chemicals, tools, surcharges
VND / maid
7.200.000
Monthly
2-4 Maids
Excluding chemicals, tools, surcharges
VND / maid
7.000.000
Monthly
5-10 Maids
Excluding chemicals, tools, surcharges
VND / maid
6.800.000
Monthly
3.2. Quote the cost of periodic cleaning of the shopping center, special maintenance
Depending on each item of intensive cleaning, or maintenance, the cleaning service fee for each item is as follows:
Total cleaning for building, house after construction or repair: 15,000 – 20,000 VND/m2
Total cleaning for building, house in use: 10,000 – 15,000 VND/m2
Cleaning glass outside, on the top of the building, offices: 8,000 – 20,000 VND/m2
Cleaning glass inside of buildings and offices: 6,000 – 10,000 VND/m2
Sweeping dust, ceiling cobwebs, overhead walls of the factory: 8,000 – 20,000 VND/m2
Hard floor cleaning: 3,000 – 17,000 VND/m2
Cleaning workshop floors contaminated with heavy grease: 15,000 – 40,000 VND/m2
Marble floor polishing: 150,000 – 200,000 VND/m2
Granite floor polishing: 200,000 – 300,000 VND/m2
Concrete, Terrazzo floors polishing: 60,000 – 120,000 VND/m2
Coating Vinyl floor, Anti-static Vinyl Esd: 30,000 – 80,000 VND/m2
Grinding Concrete, Terrazzo floors: 50,000 – 120,000 VND/m2
Carpet cleaning: 7,000 – 20,000 VND/m2
Washing partitions: 20,000 – 30,000 VND/m2
Office chair cleaning: 8,000 – 30,000 VND/piece
Sofa cleaning: 300,000 – 600,000 VND/set
Washing curtains, washing curtains: 60,000 – 80,000 VND/kg
Disinfection service: 8,000 – 20,000 VND/m2
Provide hourly cleaning staff: 38,000 – 71,000 VND/hour
Provide daily and periodic cleaning staff: 6,600,000 – 7,800,000 VND/employee (position)
3.3. Package quote
Package cleaning price = Fee for providing cleaning staff + Periodic cleaning fee + Fee for providing chemicals, tools, depreciated materials + Other special maintenance and cleaning costs
Please contact us to receive a full building cleaning quote and answer any questions about pricing.

---
4. Promotion for new customers
💦 We apply a special promotion for apartment residents using TKT Cleaning's cleaning service 👇👇👇
We forgot to tell you….
Great promotion
TKT Cleaning always has new and regular promotions for cleaning services in commercial areas and supermarkets to show gratitude to customers:
⭐ 5% off

For First Time Customers
⭐⭐ 10% off

for 2nd Facility Customers
⭐⭐⭐ 15% off

for 3rd Facility Customers
⭐⭐⭐⭐ 20% off

for 4th Facility Customers
🔔 And many promotional programs and events are updated monthly at TKT Cleaning's Fanpage, Gmappage and Landingpage. Don't miss it here:

---
5. Frequently asked questions
🎭 Questions about the cleaning services of shopping malls and supermarkets of TKT Cleaning are common when consulting customers 🎭
5.1. Job of a shopping mall clerk
❓ Question 1: what job mall janitor can do?

💡 Answer: Most of the job mall shop janitor is doing cleaning and cleaning tasks. However, they can take on a variety of other support jobs such as: distributing membership cards, taking care of lockers, cleaning carts, clearing shelves, assisting with displays… Each position as a janitor. The shopping center will have a specific job description so that they can take on the task in the best way.
---
5.2. How to clean public toilets in shopping centers
❓ Question 2: What is the best solution for public toilet cleaning tasks in shopping malls?

💡 Answer:
– Standard cleaning solution: The toilet in the shopping mall has a very high frequency of use. Therefore, ensuring cleanliness is a huge challenge for any shopping mall cleaning staff. Need to clean 1-6 times the positions under 2m high including: toilet, hand wash, floor, mirror, paper box, hand dryer…
– Toilet service solution: Still on the floor to stay dry, replenishing supplies used in the toilet when they run out. The frequency of toilet service in a shopping mall is usually 45-120 minutes/time. However, the area with many restaurants and bars may have to be on duty every 30 minutes.
---
5.3. Escalator cleaning process at shopping malls
❓ Question 3: How is the cleaning process for escalators at shopping malls? Is there any special equipment for cleaning shopping mall escalators?

💡 Answer: Cleaning escalators at shopping malls needs meticulous care. from the handrail to each stair groove. Besides staff cleaning escalators with simple tools, there are specialized equipment to ensure escalators at shopping malls are always clean.

---
6. Customers evaluate the quality of office cleaning services of TKT Cleaning
💦 Please leave your comments so that we can improve our service quality to serve you better. We appreciate all your comments.
❤️ Please rate ❤️
---
7. Request a Free Consultation
Fill out the request form following questions, we will call you back as soon as possible. 100% Free