Our commercial cleaning service in Ho Chi Minh City called TKT Cleaning: ✔️ Comprehensive ✔️ Professional ✔️ Best Price. Committed to continuously improving to bring our customers more benefits in 2022

1. Introduces TKT Cleaning
💦 You are looking for an commercial cleaning service partner related to:
General cleaning, office building package; factories, workshops, warehouses;
Cleaning building after construction
Periodic cleaning
Provide staff cleaning (cleaner) daily, hourly, event…
Specialized or deep commercial cleaning services
💦 TKT Cleaning, with so many experience in cleaning more than 5,000 from large to small cleaning projects for clients:
Large corporations and companies in Vietnam: Agribank, Techcombank, Mbbank, Sacombank, Masan Group, Construction Corporation, Saigon Port, FPT, Trung Nguyen, Vinhome …
Foreign companies from Japan (Saporo, Yamaha, Rohto, Nitto Denko …), USA (McDonal, Talisman, Fedex, TNT, Uber, Johnson and Johnson …), Korea (CJ, Lotte …), Taiwan (Packson Flemington …) …
Thousands of villas, apartments, houses … in Ho Chi Minh City
We really want to cooperate and become your long term of partnership partner in cleaning service.
Please call us for a free consultation and quote on commercial cleaning services.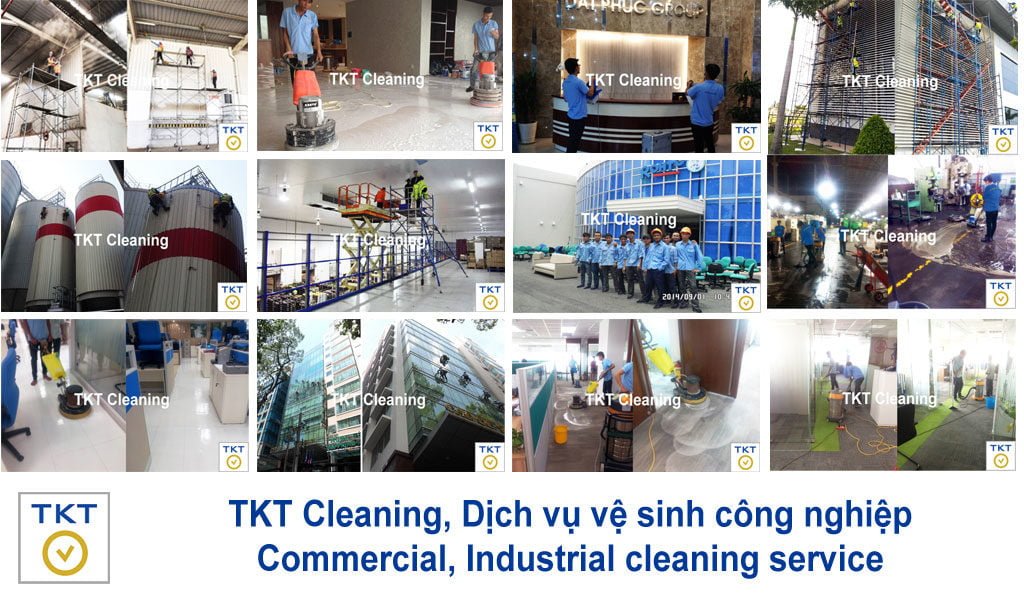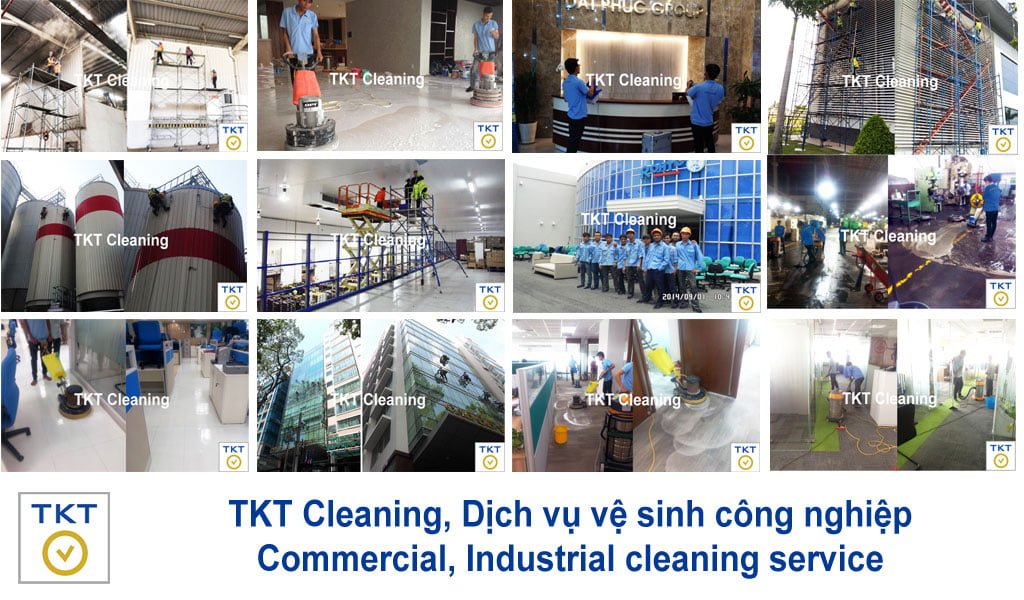 ---
2. Why choose TKT Cleaning
2.1. The meaning of commercial cleaning service?
Today with the urbanization in Vietnam, with the emergence of more and more buildings, offices, high buildings, commercial areas, supermarkets, apartments, restaurants, hotels, airports, parks , schools, hospitals, factories, warehouse, store…
So, the customer need professional and deep or specialized cleaning for big, high building. Commercial cleaning service means deep, special task of cleaning. It's often periodic, several time per year.
You can see more definition about commercial cleaning and differentiate it with janitorial, residential, industrial cleaning service here: https://tktg.vn/dich-vu-ve-sinh-tieng-anh-la-gi/
2.2. What do commercial cleaning services usually provide?
General cleaning: for building after construction (or also known as cleaning service after construction) or total cleaning for building in use include:

Task:

Cleaning from top to bottom, from inside to outside of the building (including cleaning glass, aluminum frame, logo, signboard … the exterior of the building)
Furniture cleaning (carpet, chair cleaning, mattress washing, curtains, stone floor polishing, floor sealing…).

Objectives: Thoroughly clean the building, bring a fresh, original look to the building.
Frequency: General cleaning is usually done periodically once, or 3, 6 months to 12 months.

Daily, hourly cleaning: provide daily cleaning staff for everyday cleaning a part or entire buildings.

Objectives: maintain a clean and luxurious state of the building.
Type of construction: commercial center, supermarket, school, building, warehouse, factory, hospital, commune building…
There are not many cleaning companies of providing all kind of cleaning service with best price and high quality. TKT Cleaning is one of the few cleaning companies in Ho Chi Minh City to provide comprehensive and best price all task of commercial cleaning.
… and there are also many other benefits for customers from TKT Cleaning.
TKT Mart – Best provider cleaning products in Vietnam
💎 TKT Cleaning customers who purchase cleaning products from TKT Mart receive at least 10 – 20% discount. 💎
TKT Mart has experience in supplying industrial, commercial, residential cleaning equipment and chemicals for many projects and foreign partners. We bring the Comprehensive Solution and the Best Price for the Customers. Not only commercial cleaning services but also related products:
TKT Mart supplies cleaning equipment: cleaning machines, tools, equipment with Best Price.
TKT Mart provides Environmentally Friendly, Effective and Modern Sanitary Chemicals.
Not only Comprehensive in service, TKT Cleaning also offers the Best Price and Professional Service Attitude, Prestige.
TKT Cleaning constantly strives to improve and innovate, providing customers with more perfect service and better prices. TKT Cleaning's commercial cleaning team always has a sense of friendly service – dedicated – honest and constantly improving expertise.

---
3. TKT Commercial Cleaning Service Quotation
3.1. Quotes for general cleaning services
We would like to send the references price list of cleaning service as follows:
Total cleaning for building, house after construction or repair: 15,000 – 20,000 VND/m2
Total cleaning for building, house in use: 10,000 – 15,000 VND/m2
Cleaning glass outside, on the top of the building, offices: 8,000 – 20,000 VND/m2
Cleaning glass inside of buildings and offices: 6,000 – 10,000 VND/m2
Sweeping dust, ceiling cobwebs, overhead walls of the factory: 8,000 – 20,000 VND/m2
Hard floor cleaning: 3,000 – 17,000 VND/m2
Cleaning workshop floors contaminated with heavy grease: 15,000 – 40,000 VND/m2
Marble floor polishing: 150,000 – 200,000 VND/m2
Granite floor polishing: 200,000 – 300,000 VND/m2
Concrete, Terrazzo floors polishing: 60,000 – 120,000 VND/m2
Coating Vinyl floor, Anti-static Vinyl Esd: 30,000 – 80,000 VND/m2
Grinding Concrete, Terrazzo floors: 50,000 – 120,000 VND/m2
Carpet cleaning: 7,000 – 20,000 VND/m2
Washing partitions: 20,000 – 30,000 VND/m2
Office chair cleaning: 8,000 – 30,000 VND/piece
Sofa cleaning: 300,000 – 600,000 VND/set
Washing curtains, washing curtains: 60,000 – 80,000 VND/kg
Disinfection service: 8,000 – 20,000 VND/m2
Provide hourly cleaning staff: 38,000 – 71,000 VND/hour
Provide daily and periodic cleaning staff: 6,600,000 – 7,800,000 VND/employee (position)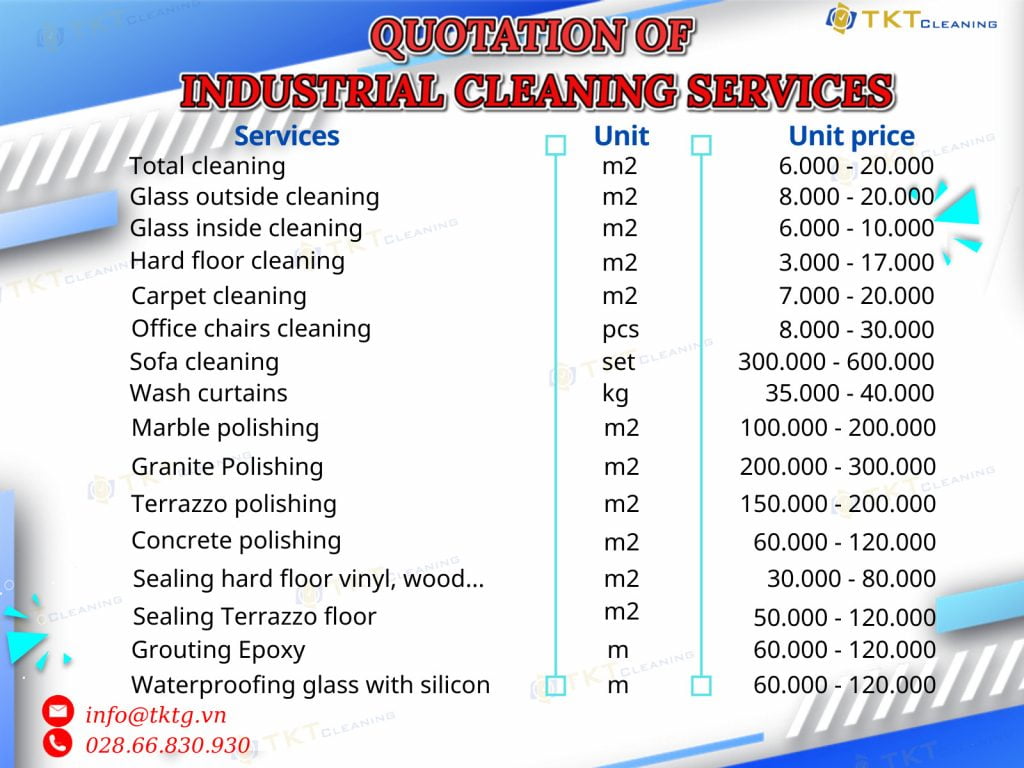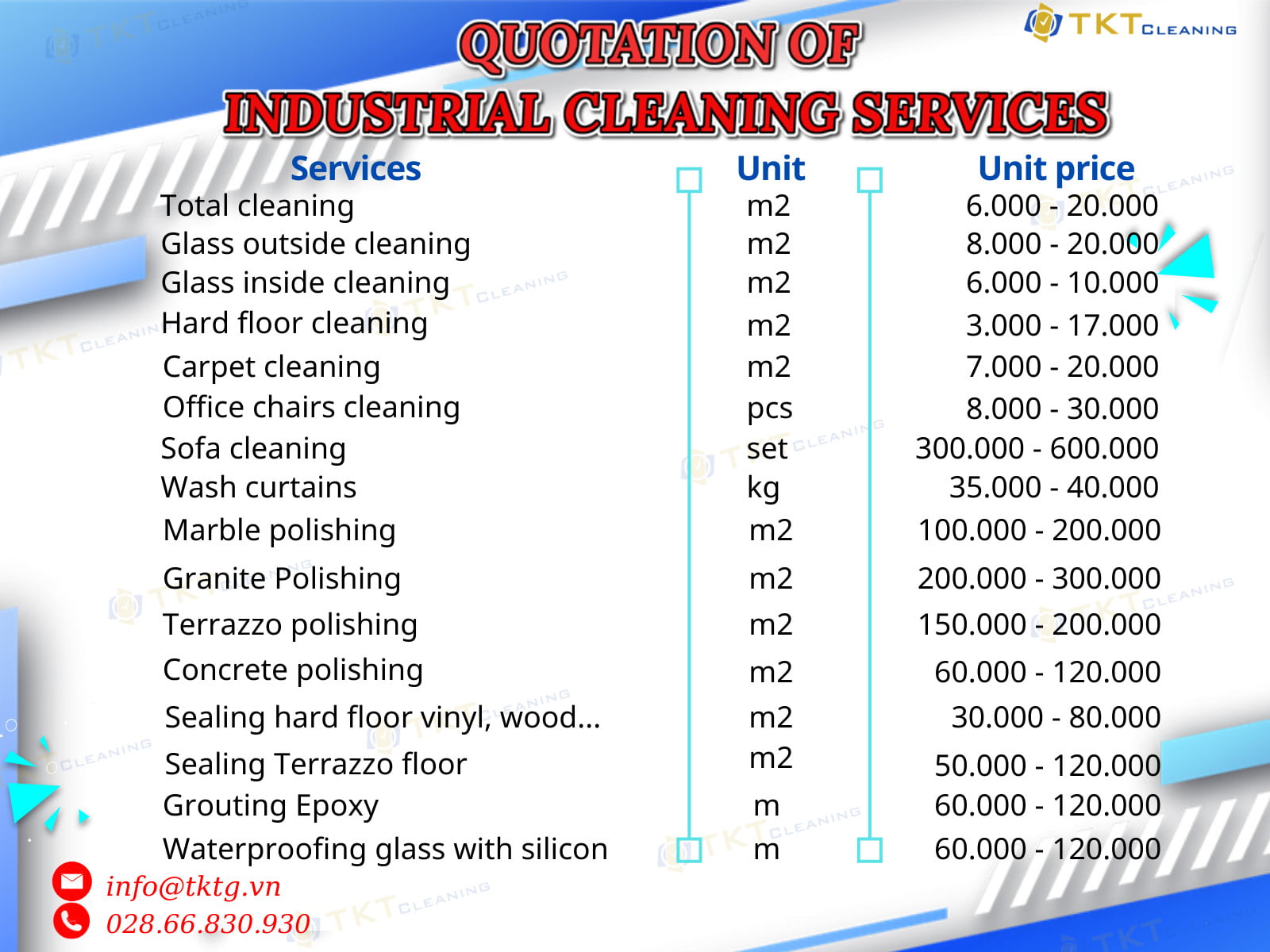 3.2. Service quote provided by hourly and daily cleaning staff
TKT is the leading company in HCMC providing hourly and daily cleaning staff. Please be quoted as follows
💲💲 Hourly rates range: 33,000 – 69,000 VND / hour, very flexible according to customers' specific needs 💲💲
This is the most economical and flexible new cleaning solution.
3.3. Quotation of chemical and equipment for commercial cleaning service
💎 TKT Cleaning is not the cheapest commercial cleaning service, but a service that balances quality and price. You will get the Ho Chi Minh City cleaning service that is most deserving of the cost you spent. We value every Customer's expense.💎

---
4. Promotions
💦 There are many interesting things about the promotions, knowledge and tips of the cleaning service TKT Cleaning … 👇👇👇
We forgot to say you….
Attractive promotions
TKT Cleaning always has promotions to thank customers who use commercial cleaning services regularly:
⭐ Discount 5%

For First Time Customer Use
⭐⭐ Discount 10%

For Customers Using Second Time
⭐⭐⭐ Discount 15%

For Customers Using Quarterly
⭐⭐⭐⭐ Discount 20%

For Customers For Monthly Use
🔔 And many promotions and events are updated monthly at Fanpage, Gmappage and Landingpage of TKT Cleaning. Don't miss out here:
❤️ Fanpage: https://www.facebook.com/congtyvesinhtphcm/
❤️ Gmappage: https://g.page/congtyvesinhtphcm
❤️ Landingpage: https://tktg.vn/en/cleaning-services/

5. Video about our service
🎬 High rise window cleaning video
---

---
6. FAQs
❓ Question 1: What are commonly used cleaning machines?
💡 Answer: Common types of industrial cleaning machines are floor cleaning machines, industrial water vacuums, pressure washers, steam machines, sprayers, floor grinders. .. These are the main machines, can be combined with heating, or cold water. May use chemicals, or hot steam. Nowadays with the variety of industrial cleaning machines, cleaning becomes more and more gentle and efficient.
❓ Question 2: What do cleaning tools include?
💡 Answer: Tools for industrial cleaning usually include: mops of all kinds; house brooms of all kinds; bush pushers; water pushers; glass wiper; the extension tree wipe the glass; a set of vines to wipe the glass above; gather waste; trash can; brush the type; 1 bucket, 2 buckets of water extractor; car cleaning … These are the most common industrial cleaning tools
❓ Question 3: What are the industrial sanitary wares that support the cleaning process?
💡 Answer: The auxiliary equipment for industrial cleaning is often used above such as: crane trucks, crane lifts, forklifts, lifts, scaffolding … These are very popular industrial hygiene equipment. Use when cleaning factories, workshops, or overhead glass cleaning.
❓ Question 4: Which industrial cleaning company in Ho Chi Minh City is good?
💡 Answer: Each company has a different business philosophy as well as a different target audience. TKT Cleaning is one of the Top10 industrial cleaning service companies in Ho Chi Minh City with more than 10 years of experience and nearly 5,000 customers preferring to use the service. By taking care of customers' benefits with comprehensive, flexible and economical service packages, TKT Cleaning is more and more trusted and loved by many customers.
❓ Question 5: Is TKT Cleaning a cheap cleaning service in Ho Chi Minh City?
💡 Answer: TKT Cleaning is not the company that provides the cheapest service, but you will certainly get the quality and satisfaction that is commensurate with the price you paid. More than 5,000 satisfied customers, and we are sure you will also be satisfied with the quality and price of industrial cleaning services provided by TKT Cleaning.
❓ Question 6: Need to make a contract before hiring to clean industrial cleaning in Ho Chi Minh City?
💡 Answer: With contracts from 20,000,000 VND or more, of course you need to do contracts. For contracts <20 million, you also need to have an agreement or a signed quote from an industrial cleaning service provider to avoid questions and arising. Especially, it is necessary to clarify the criteria to confirm Pass or Fail after cleaning. Should not be fast at first but slow later. Should not believe in every cleaning team that can be said to be done, every stain says 100% bleach.

---
7. Reviews from customers about our commercial cleaning service
Please leave your comments for us to improve service quality to serve you better.
❤️ Please rate and comment❤️
---
8. Request a free consultation
Fill out the following consultation request form, we will call you back as soon as possible. 100% Free 👇👇👇👇

028.66.830.930
TKT Company®
Office: 161 Ung Van Khiem Street, Ward 25, Binh Thanh District, Ho Chi Minh City, Vietnam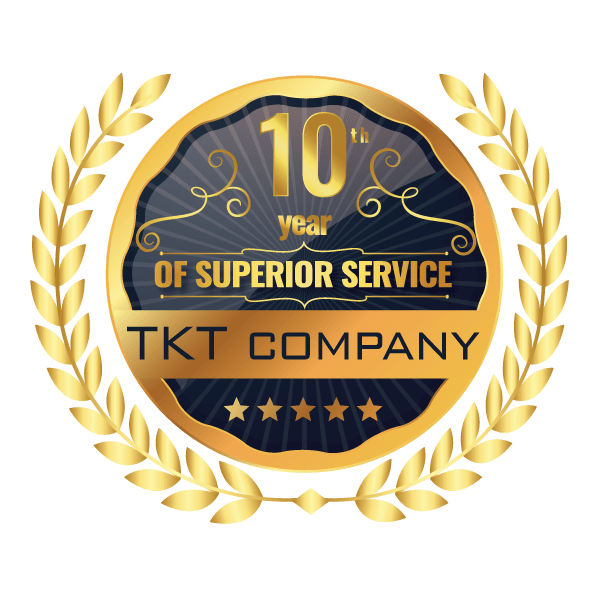 Website: https://tktg.vn/en/