💥 High Rise Window Cleaning Service (or cleaning glass of the high building, facade cleaning) includes: cleaning glass, aluminum frame, aluminum spokes, surface cleaning, cleaning the outside of the top high-rise building in Ho Chi Minh City, Binh Duong, Dong Nai Year 2022: ✔️ Professional ✔️ Meticulous ✔️ Safe ✔️ The most competitive price. 💥
---
1. Introduce TKT high-rise window cleaning service
💦 High-rise Buildings, offices, buildings, hotels, factories, warehouse… are in demand:
Clean glass, wipe glass, aluminum frame, alu, aluminum spokes, billboards?
Clean window at the front, the outside, the side up high?
Please contact TKT High rise window cleaning service company ☎ 09.38.17.22.94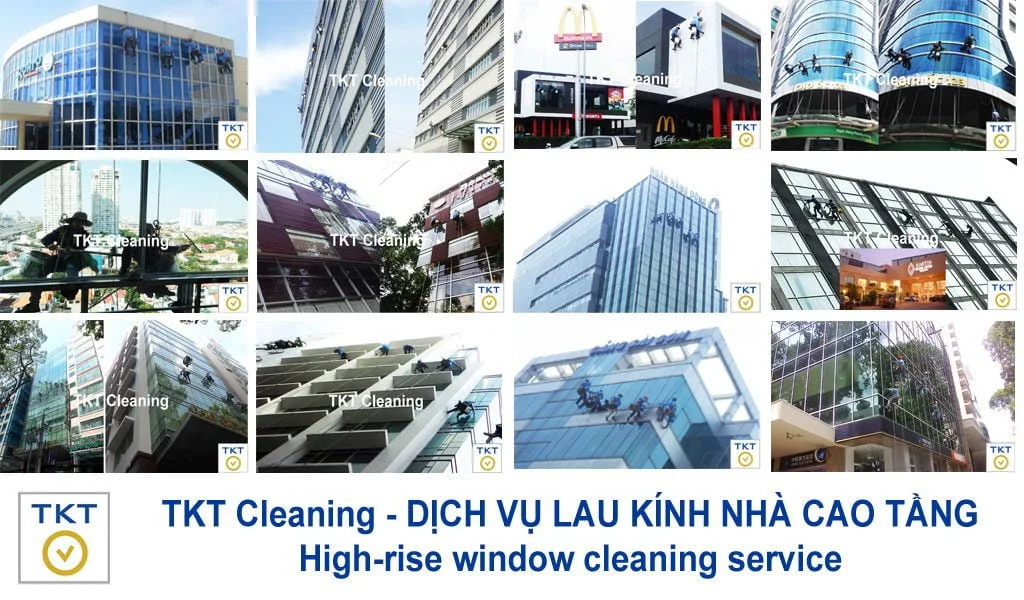 🔎 Professional – Meticulous – Safe – Competitive prices, we have implemented facade cleaning services for more than 5,000 commercial and industrial customers in Ho Chi Minh City, Binh Duong, Dong Nai, Long An …:
Maritime Bank Building, Agribank, Techcombank, Indovinabank, Dong A,
Building office: Saigon Port; Vicoship Saigon; Mekong Tower; Itaxa Tower; HD Tower; HCMC Women Newspaper; Trung Nguyen Cafe; Somerset Tower; Parkland Tower …
Foreign companies: Japan (Rhoto, Nitto Denko …); Korea (Lotte Cinema, Tous les jours, Hyundai Motors …); America (Mcdonal, Johnson & Johnson, Harley Davidson …).
Hotels: Eastin Grand Hotels, Movenpick …
---
Our customers

---
💦 With the Satisfaction and Appreciation of partners that TKT Cleaning glass cleaning service has served, we are confident that we will meet the strict requirements of our customers.
💦 Please contact TKT Cleaning's professional high-rise glass cleaning service in Ho Chi Minh City in 2022.

---
2. Why choose TKT facade cleaning services
💦 Cleaning services for high-rise buildings, also known as cleaning services for exterior glass, facade cleaning, facade glass cleaning … However, in addition to the main task of cleaning glass on the outside of tall buildings The floor usually consists of many items that may be accompanied by:
Wipe glass, aluminum frame, aluminum spokes
Clean outside stone of building
Clean boards, logos, billboards
Wash high-rise walls
Seal waterproof silicone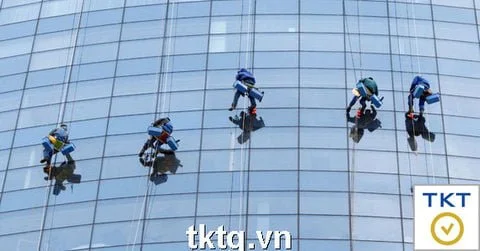 💦 Buildings, offices, factory… especially high-rise buildings need cleaning glass after construction, or glass cleaning for maintenance each 6 months, or 1 year for 3 important purposes:
Clean the glass after construction, bring beauty, elegance, modernity and wealth to buildings, offices and buildings.
Regular cleaning of the glass helps extend the life of the glass, especially expensive tempered glass panels. Because of acid, ionic dust, stick to glass for a long time will fade, cloudy, even corrosive glass.
Return beautiful colors for alu, stone wall tiles
Why choose TKT glass cleaning service
TKT professional glass cleaning service, we specialize in cleaning external glass, facades, facades for high-rise buildings, buildings, offices … in HCMC.
Not only cleaning high-rise glass, we also provide customers with Total Solutions for facades such as: painting, waterproofing, cleaning stained glass, removing fish scales, cleaning stone…
The trained cleaning staff focused on Discipline, Safety, and Meticulousness when working on high.
All employees of TKT have: Labor Safety Insurance; Aerial Working Certificate; and Experienced enough to implement the most difficult high-rise sanitation projects.
💦 Therefore, the window cleaning service of TKT has done a lot of big projects and high-rise buildings in Ho Chi Minh City, Binh Duong, Dong Nai, Long An, Vung Tau … and please a lot of fastidious partners from Japan, USA, Korea and the chain of shops, hotels, fashion shops. Customers choose us by:
💎 Professional – Meticulous – Safe – Unbeatable price 💎

---
3. Process of high-rise window cleaning service
Customers can refer to the process of facade cleaning
3.1. Step 1: Prepare cleaning area, tools to clean high-rise window
Notify cleaning area by day.
Coordinate with building management to arrange birth area
Assemble and check the safety of sanitary ware, high-rise glass cleaning tools.
Place signs, stretch the wire to isolate the area
Move furniture or cover with water.
3.2. Step 2: Clean the heavy stains on the glass
Use a razor to remove paint, glue, silicone stains on the frame and on the glass.
Use specialized chemicals to clean difficult stains.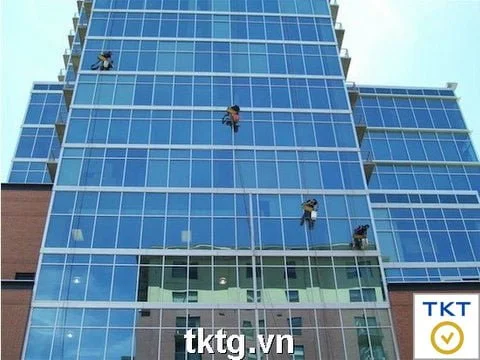 3.3. Step 3: Cleaning the frame, glass, window and with detergent
Mix chemicals to clean the glass, frame according to the appropriate ratio.
Clean the glass frame: use paint brushes to wipe dust, towels and chemicals
Wet the glass with a cleaning solution.
Dip into a bucket of chemical solution and scrub along the horizontal line from top to the end of the glass.
Wiper: use a squeegee to brush in one of four ways: flipping vertically, wiping horizontally, brushing in the right angle or sliding along the top and bottom. While brushing, keep the blade tilted at 450 degrees to the glass, do not lift the blade, but the blade should always be close to the glass. Wipe the blade with a dry towel after each brush.
After brushing, wipe off the surrounding edges of the glass with a dry towel.
Clean from top to bottom glass.
3.4. Step 4: Arrange and clean the working area
At the end of the work, remove the tarpaulin, the tension cord isolate.
Move furniture back to its original location, dismantle the device and clean it.
Returns the initial state to the cleaning area.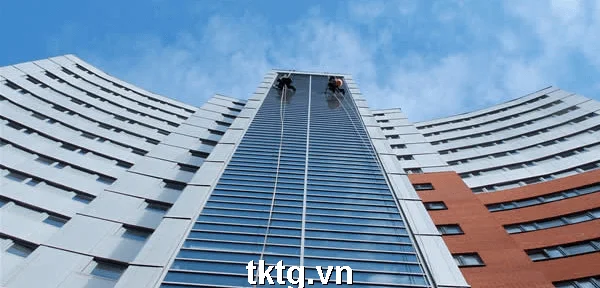 ---
4. Quotation high-rise window cleaning in HCMC, 2022
💰 Get an Online quote now, 100% Free. 💰
The price of glass cleaning service depends on many factors:
One of the most important factors is the area of glass to be cleaned.
Difficulty in construction and hygiene. There are many buildings that are difficult to execute due to grinding, there is no location to fasten.
Working methods: rope swing, forklift, crane truck, gondola …
Cleaning time: holidays, new year, weekdays
Cleaning progress
---
💲 The cheapest price starting from 8,000 – 15,000 VND / m2 💲
---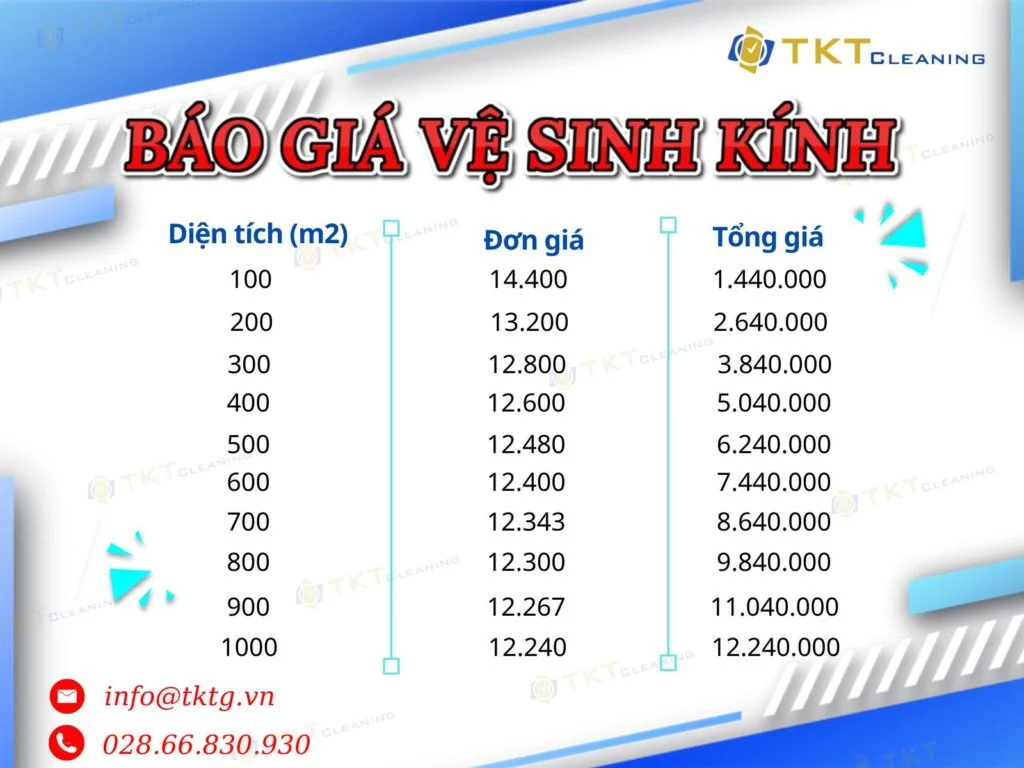 For any area, fill in the information, press the submit button, you will receive an Instant Glass Cleaning Quote.
📢📢📢 All quotes for cleaning high-rise glass on the website are for reference only. Please contact us for a better price. We will meet and discuss to understand the specific needs of our customers, thereby offering the best price.
🔔 TKT glass cleaning service company hopes to become a good partner of customers in 2022

---
5. Promotions
TKT Cleaning always has promotions for customers who use glass cleaning service regularly:
⭐ Discount 5%

For First Contract
⭐⭐ Discount 10%

For Second Contract
⭐⭐⭐ Discount 15%

For Customers Use Service Quarterly
⭐⭐⭐⭐ Discount 20%

For Customer Use Service Monthly
And many promotions and events are updated monthly at Fanpage, Gmappage and Landingpage of TKT Cleaning. Do not miss here:

---
6. Video introducing TKT glass cleaning service
Watch our Cleaning Videos in high-rise buildings to learn more about us.
6.1. 🎬 Video 1: Brief of glass, window cleaning service
6.2. 🎬 Video 2: Glass cleaning service of TKT on TV

---
7. Schedule a glass cleaning service survey
📝 You can schedule a glass cleaning service survey NOW so we can better understand your needs and can advise and support you the best. We will confirm working schedule with You as soon as receiving the request 👇👇👇👇.
---
8. Frequently asked questions about high rise window cleaning service
🎭 We would like to share with you the questions we often receive from customers when they use high-rise glass cleaning service. 🎭
❓ Question 1: Does the glass cleaning quotation need to be investigated??
💡 Anwser: Many units only quote price via m2 but do not come to meet customers to evaluate the construction plan, as well as carefully understand the actual needs of customers, to save management costs. However, in the view of TKT Cleaning, the more initially you do it, the more you understand and work effectively. Therefore, TKT Cleaning always survey customer meetings before quotes cleaning the building glass.
❓ Question 2: Cleaning the outside glass of high-rise buildings what construction plans? Which option is the cheapest?
💡 Anwser: Depending on the height and structure of the building, there are hygiene options as follows: 1 – Scaffolding; 2 – Swing the rope; 3 – Lift lift; 4 – Forklift truck; 5 – Truck cranes; 6 – Gondona; The cheapest and most popular method to clean the outside glass is still the rope wiping the glass because the cost of renting forklifts and cranes is quite expensive, while the premises in Vietnam are tight. In developed countries, people mainly use forklifts and cranes because of the low cost of machinery and labor, while labor is low. Scaffolding solutions are also considered when cleaning exterior glass for low buildings.
❓ Question 3: Which company cleans glasses professional in HCM?
💡 Anwser: Please trust and give us a chance. TKT Cleaning is the leading professional glass cleaning address in Ho Chi Minh City today. Our address at 161 Ung Van Khiem, Ward 25, Binh Thanh District, Ho Chi Minh City.
❓ Question 4: TKT Cleaning provides condominium glass cleaning services?
💡 Anwser: TKT Cleaning provides all glass cleaning services including apartment glass cleaning. Not only that, TKT Cleaning also provides maintenance services, shooting silicon waterproof glass for apartments and buildings. General glass is usually window glass, living room, bathroom and harder to clean than office buildings. That's because the number of small glasses, tight and often long, do not clean the glass periodically.
❓ Question 5: Does TKT Cleaning hire glass cleaners?
💡 Anwser: TKT Cleaning provides and hires people to clean glass for projects on glass cleaning, solar glass cleaning, installation of transceiver and transceiver stations all over the country, including ports. island.
❓ Question 6: Which building glass cleaning service in HCMC is the most prestigious?
💡 Anwser: In Ho Chi Minh City There are hundreds of service units for building glass cleaning. Each unit has a different number of customers and loyal customers. TKT Cleaning is confident with more than 10 years of experience, more than 5,000 satisfied customers, making it the Top 10 most reliable glass cleaning service in Ho Chi Minh City.
❓ Question 7: How are TKT Cleaning building cleaners trained?
💡 Anwser: TKT Cleaning building glass cleaners are trained directly under the guidance of experienced supervisors and inspection centers. They have a high-level occupational safety training certificate issued by inspection centers. Supervisors have a safety training certificate and scaffolding removal certificate. As a result, they train the most professional building glass cleaners
❓ Question 8: How much does the glass door cleaning service cost?
💡 Anwser: It is difficult to set the specific price of cleaning the glass door. One estimate, the price of cleaning glass doors is about 5,000 – 8,000 VND / m2. The price of cleaning exterior glass doors is from 8,000 – 15,000 VND / m2.
---
9. Customer evaluates TKT high-rise glass cleaning service
❤️ Please share your comments about TKT Cleaning glass cleaning service so that we can improve your service better. ❤️
💖 Please rate 👇👇👇👇 💖
10. Request a Free consultation
Fill out the following consultation request form, we will call you back shortly. 100% Free 👇👇👇👇