💥 Marble floor polishing service in Ho Chi Minh City, Binh Duong, Dong Nai, Long An, Can Tho, Vung Tau, Phan Thiet … In 2022: ✔️ International chemicals ✔️ Modern processes ✔️ Specialized equipment ✔️ High technical staff 💥
---
1. Introducing Marble Polishing service
1.1. 💦 What services does TKT provide to handle marble?
Marble polishing service of TKT is ready to serve the most demanding customers in buildings, commercial areas, banks, hotels and restaurants. If you have the following needs:
Polishing new Marble floor put into use to increase the beauty of stone floor, wall.
Polishing and restoring Marble floors, Marble wall tiles that have been used for a long time are degraded, losing brightness.
Polishing and maintaining Marble floor regularly to create a luxurious, professional.
Overcoming errors of Marble stone floor such as stains, rust …
1.2. 💦 Why choose TKT marble polishing service?
Polishing, restoring, maintaining marble stone, marble floor is a strong field of TKT Company with professional investment:
International standard polishing chemicals (only use imported chemicals from the USA, Italy, Singapore …)
Modern marble stone polishing equipment, high performance
Standard stone polishing process
Responsible and devoted skilled workers.
1.3. 💦 Our customers
🏣 Types of building selected for TKT's marble polishing service:
Big corporations and companies in Vietnam: Agribank, Techcombank, Mbbank, Indovinabank, Masan Group, Construction Corporation, Saigon Port, Vietnam News Agency Building, HCMC Women's Newspaper Building, Mekong Building Tower …
Works of foreign companies in Japan (Rohto, Nitto Denko, Tokyo Deli … ); USA (Johnson and Johnson …); Germany (MovenPick Hotel); South Korea (Tous Les Jours, Yajkin Intertex, Lotte Mart); Taiwan (Packson Flemington …) …
And many luxury villas in Ho Chi Minh City: Thao Dien District 2; Phu My Hung District 7; villas in Q9 and adjacent provinces of Dong Nai, Binh Duong, Vung Tau, Long An, Phan Thiet …
---
❤️ Recent customers of TKT ❤️

---
🔎 TKT service area
Ho Chi Minh, Binh Duong, Dong Nai, Long An, Binh Phuoc, Tay Ninh, Ben Tre, Dong Thap, Tien Giang, Binh Thuan, Ba Ria Vung Tau, Lam Dong, Da Lat, Ninh Thuan, Khanh Hoa, Phu Yen, Dak Nong, Dak Lawk, Gia Lai, Kon Tum, Quang Ngai, Binh Dinh, Quang Nam, Bac Lieu, An Giang, Soc Trang, Tra Vinh, Vinh Long, Phu Quoc, Ca Mau, Kien Giang, Da Nang
✨✨ TKT is eager to serve customers with the most professional marble floor polishing service – high quality – the most competitive price in 2022. ✨✨
Call NOW ☎ for TKT to get free consultation and quote 💖

---
2. The process of polishing marble floor
💦 Marble, also known as one of the most commonly used natural stones in construction for making floors, lobbies, and wall tiles (besides other natural stones like Granite – marble) .
💦 Marble is naturally beautiful, has bright and luxurious colors, so it is used a lot at the lobby, walkways, floors, walls of areas, buildings requiring luxury and class like commercial area. , banks, hotels, restaurants, complexes, luxury apartments …
💦 In order for the marble floor to truly show its inner beauty, it requires careful and meticulous care and use of stone to make the stone always beautiful. However, this is not easy because Marble has low hardness (MOH = 6), so it is easy to be scratched, need to restore marble floor, polish the stone floor after a period of use. How to polish marble stone has many different measures. But basically follow the process of polishing the floor:
❓❓ What is the basic process of polishing marble basically? ❓❓
2.1. Step ❶ – Inspect the status of stone floor
Surveying the gloss of the stone floor to give the most appropriate method of treating and honing the marble floor.
Record the initial state for comparison with the results after using the natural stone processing service.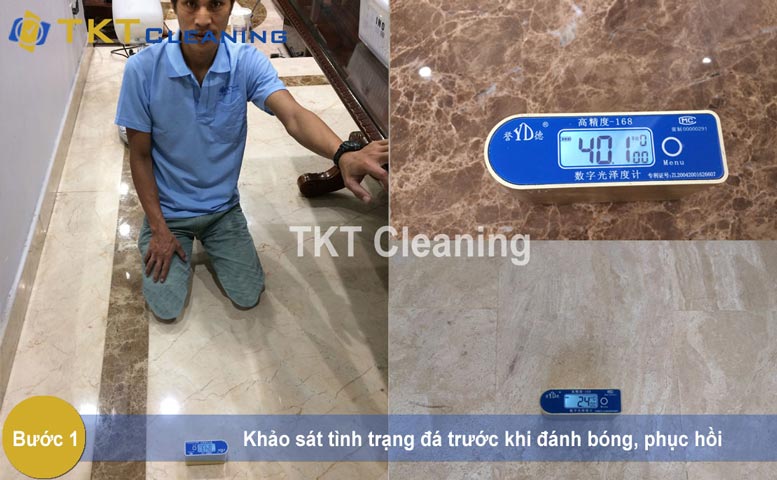 2.2. Step ❷ – Covering furniture, surrounding equipment
Because the process of grinding the floor always produces dust, water containing stone powder, it is necessary to cover all furniture that can be splashed, preventing furniture damage.
Wrap plastic furniture and tape as much as possible.
2.3. Step ❸ – Handling marble with deep stain
Marble is very susceptible to deep contamination even though it has been coated with waterproofing chemicals due to the many capillaries in the limestone crystals (the nature of Marble). Therefore, it is always necessary to deal with deep blotting errors before grinding and polishing Marble.
Maximum handling is the fault of deep rock soaking before grinding the floor.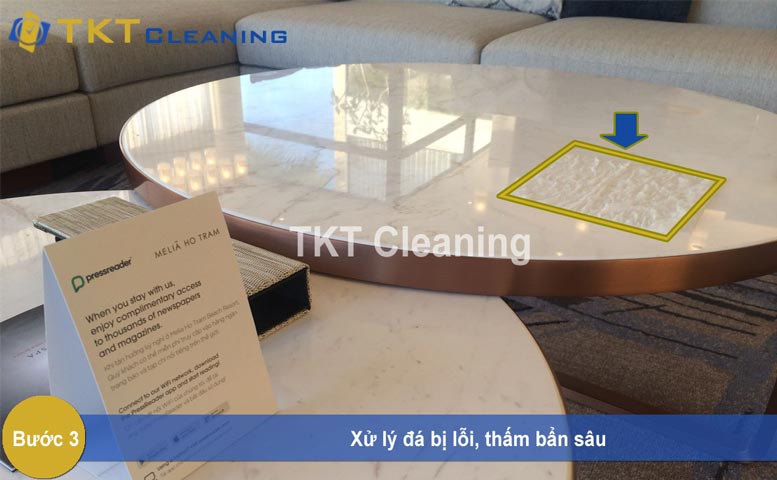 2.4. Step ❹ – Cut off the old grout
We always advise customers to cut old grout, create new grout to create the most homogeneous and most advanced surface for marble floors.
Cutting process can generate dust, TKT will minimize the generation of dust during the removal process.
Typically, TKT charges an extra fee when removing old tracks, as this is very labor-intensive. But as a result, you will get a flat, beautiful floor, as high as 5-Star Hotel.
2.5. Step ❺ – Re-grouting
Color mixing to create a homogeneous texture between grout and marble.
Make the new grout with stone glue and patch the broken, large holes
2.6. Step ❻ – Grinding off marble floor
Depending on the condition of the stone surface, you can use the floor scrubber, hand grinder, diamond grinding wheel (abrading) to grind the stone surface and eliminate scratches. This is the most labor-intensive step, requiring workers to be really focused, experienced and sharpening skills. Human factors play a decisive role.
The more carefully the units execute the stone, the more careful it is, the more shiny the stone. Diamond grinding wheels can be used from # 50, 100, 200, 300, 400, 500, and 800.
2.7. Step ❼ – Polish Marble floor from rough, smooth, increase the gloss
Polish stone floor from Coarse – Smooth by using resin disc (resin disc or diamond disc) # 1000, 1500, 2000, 3000, 8000
After the initial polishing phase, the stone floor begins to shine again. However, it is not possible to reach the required level of shine.
Then you need to use specialized chemicals to polish the stone floor. In Vietnam often use chemicals imported from the US, UK, Italy, Singapore. In this step, understanding stone and chemicals plays a decisive role. Using suitable chemicals with stone will help shiny marble floor surface very nice.
2.8. Step ❽ – Check the gloss and acceptance
Measure the gloss of Marble stone in different areas and get the service completed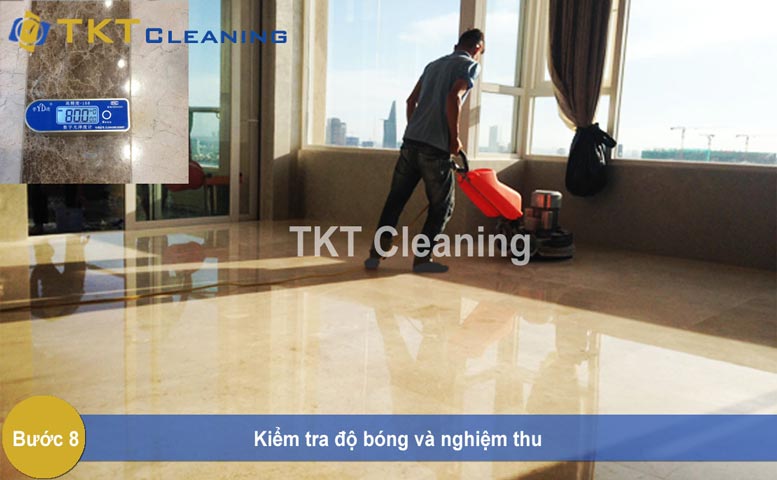 🔥🔥 TKT Company with knowledge of natural stone, marble is looking forward to being a your partner 🔥🔥

---
3. Quotation of Marble floor polishing service in Ho Chi Minh City 2022
The price for polishing stone floors depends heavily on surface area and condition.
The average price is about VND 120,000 / m2.
If traveling requires ron, the price of finished polishing can be higher from 20,000-30,000 VND / m2.
🔥🔥 For any stone floor area, please fill in the information to get an Instant Online quote 🔥🔥
🔥🔥 Please contact TKT marble polishing service, we have the most detailed quotes for 2022 🔥🔥

---
4. Promotions
💰💰💰💰 TKT Cleaning always has promotion programs to express the gratitude to customers who use the service of polishing, restoring and maintaining Marble regularly:
⭐ Discount 5%

For First Time Customers
⭐⭐ Discount 10%

For Second Time Customers
⭐⭐⭐ Discount 15%

For Customers Use Quarterly
⭐⭐⭐⭐ Discount 20%

For Customer Use Monthly
And many promotions, events are updated monthly at Fanpage and Gmappage, Youtube of TKT Cleaning. Do not miss here:
❤️ Fanpage: https://www.facebook.com/congtyvesinhtphcm/
❤️ Gmappage: https://g.page/congtyvesinhtphcm
❤️ Youtube: https://www.youtube.com/user/congtyvesinhtphcm

---
5. Video Marble floor polishing service
See more videos of grinding, polishing marble floors at the works of TKT
5.1. 🎬 Video 1: Brief of natural stone floor polishing service
5.2. 🎬 Video 2: Maintenance marble floor at luxury shopping mall
5.3. 🎬 Video 3: Polishing marble floor for penthouse, aparment
🔥🔥 Professional marble floor polishing service – the best in Ho Chi Minh City by 2022 🔥🔥

---
6. Frequently asked questions about marble floor polishing service
The following questions from our customers can help you to have more complete explanations:
❓

Question 1

: After polishing marble floor, then should waterproof marble floor?
💡 Answer: If you travel a lot, and often spilled food and drinks on the Marble floor, it is highly recommended to waterproof the Marble floor. However, be aware that waterproofing does not mean that marble floors are completely impervious. Because only partly reduce and time to endure stains. Always be careful when using stone floors, countertops, marble countertop
❓ Question 2: Why is new polished marble floor not as beautiful as new factory stone?
💡 Answer: In fact, the Marble stone after grinding at the factory is always the most beautiful because it is grinded with high-capacity, high-precision machines. Can reach 10 quality points. And Marble after recovery, polishing can reach a maximum of 90-95% initially. Of course it is still beautiful, but if you ask like the newly released stone is impossible.
❓ Question 3: Should grinding marble wall tiling?
💡 Answer: The answer is unfortunately not recommended. Because the wall tiles are hard to beat beautifully with a hand-held grinder. Only 60-70% of the original quality. However, if the stone is too degraded or heavily soiled, it must be resumed by re-polishing.
❓ Question 4: How to polish marble stone the most popular today?
💡 Answer: The most popular way of polishing Marble stone is to use diamond grinding technology from the numbers # 50, 100, 200, 300, 400, 500, 600, 700, 800, 900, 1000, 1500, 3000, 8000. There are 2 ways to polish Marble stone: polishing natural marble with no chemicals by special, high-grade grinding discs; or polish using conventional ball rising chemicals. TKT Cleaning now offers both ways of polishing this Marble stone.
❓ Question 5: After polishing or restoring marble, how to clean marble like?
💡 Answer: After having a beautiful ball, it is very important to use it correctly. Use only soft cleaning mop and neutral chemicals dedicated to cleaning marble like Ecosophy Japanese mop.
❓ Question 6: Does TKT offer marble staircase polishing service?
💡 Answer: Marble staircase (marble) is very beautiful, but because the surface of the stone is soft so it is easy to scratch. Therefore you need to periodically 6 months, 1 year polishing the stone staircase to retain the elegance of Marble.
❓ Question 7: What is wax, powder, marble polishing chemical?
💡 Answer: In the polishing process of marble stone in the final step, we use wax, flour, marble polishing chemicals, it is a stone powder mixed with mild acid to help the soft stone surface to be easily abrasive. There is often more surface covering to increase the gloss. You can see more: marble polishing chemicals. Currently, modern polishing methods without using chemicals are completely natural, clean and environmentally friendly.
❓ Question 8: What kind of marble stone polishing machine?
💡 Answer: If you want to learn about Marble floor polishing machine, there are countless types including: the line of abrasives, high-speed polishing machines, hand-held machines. They can weigh from a few kilograms to a few hundred kilograms. There is 1 grinding disc to 12-24 grinding discs. Grinding speed from several hundred rpm to several thousand rpm. Use 1 phase to 3 phase electricity.

---
7. Customer evaluates TKT marble polishing service
Feel free to leave a comment or comment about our service. This is very helpful to help us provide better service to you.
❤️ Please rate below ❤️
8. Request a Free consultation
Fill out the following consultation request form, we will call you back as soon as possible. 100% Free 👇👇👇👇