Are you in need of a concrete floor grinding service (concrete grinding service)? This is the latest trend of modern architecture. There are many purposes for grinding concrete floors including:
Grind the concrete to create a flat, ready to finish floor
Prepare the floor for the polishing of the concrete floor
Upgrade and improve old concrete floors.
Grinding concrete floors to remove epoxy paints, carpet adhesives, and vinyl floor adhesives
Polishing decorative and artistic concrete floors.
1. About concrete floor grinding service of TKT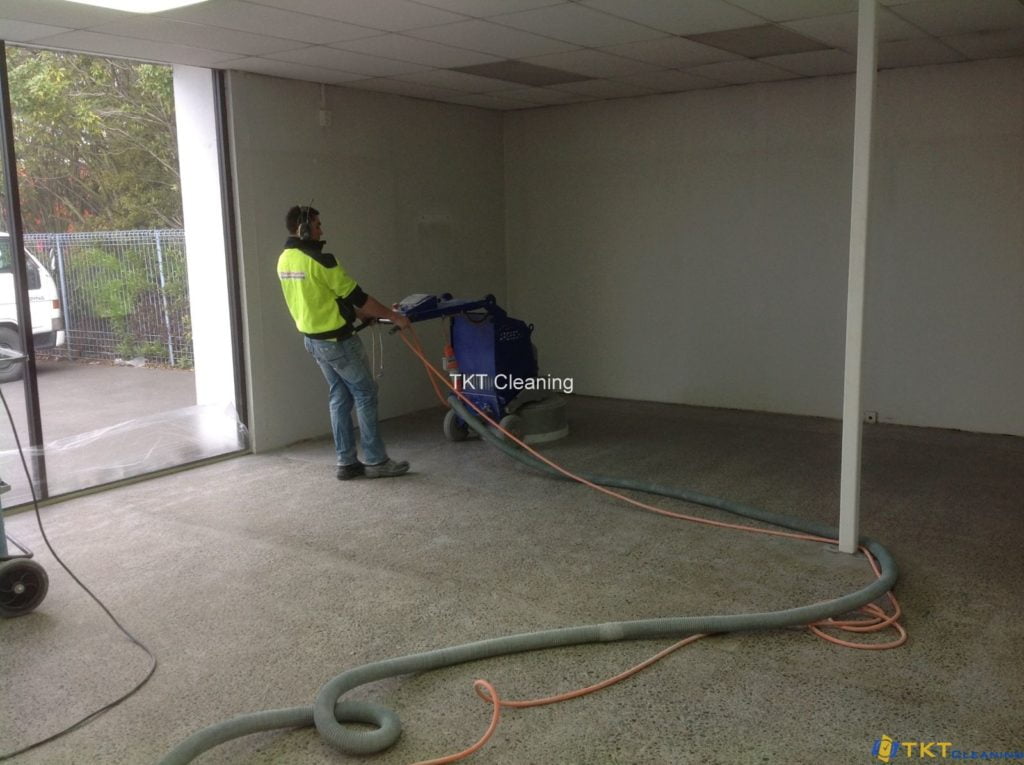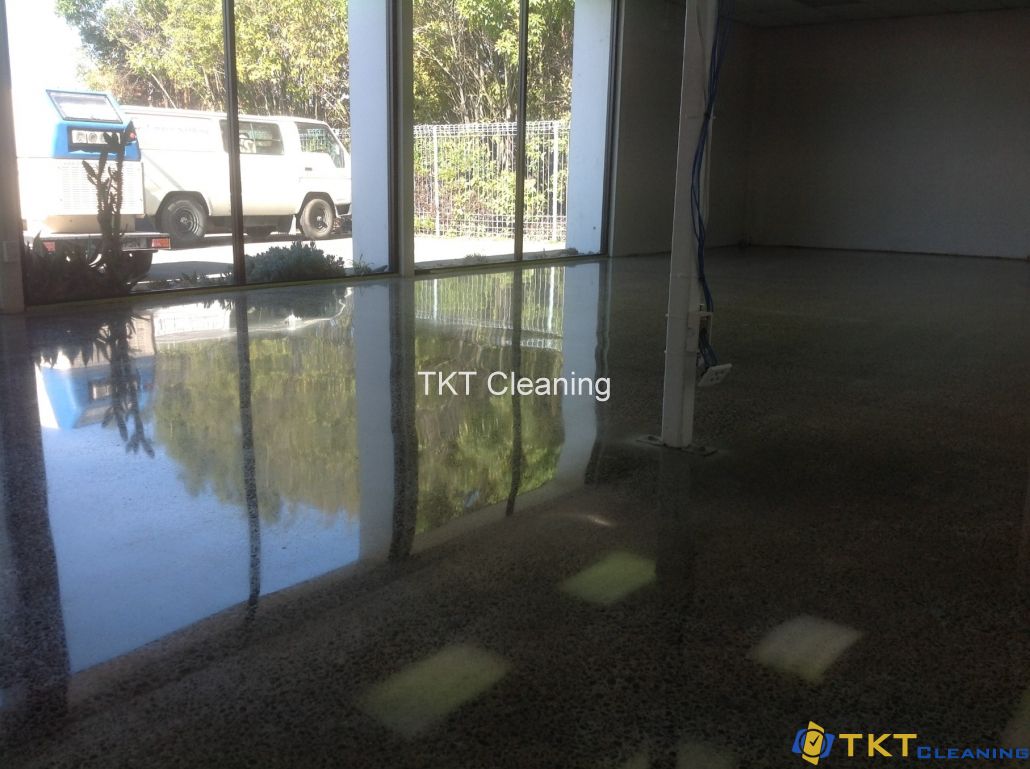 Change appearance
When you receive advice from TKT on concrete floors, you will definitely feel our experience and passion in creating a beautiful and glossy concrete floor.
TKT's technicians can create unbelievable qualities when describing floors they have transformed from dull and dusty look to a divine result with devastating floor grinding tools … their job.
Almost any concrete floor surface is polished: homes, warehouse spaces, industrial parks, cafes, apartments or retail stores. It's a technique that truly revolutionizes the look of your floor, turning it from ordinary to stunning in a multi-step concrete floor grinding process.
Concrete polishing is a complex task, requiring a high level of skill and carefulness with respect to the surrounding fixtures and fittings. The conscientious approach of TKT Concrete Floor Grinding Service takes care of these concerns and always thinks through everything right from the start, helping you stay informed and updated fastest in all stages.
The comprehensive attitude of TKT's technicians to the polishing of concrete floors from preparation to finishing also includes the use of eco-friendly products for your peace of mind and happiness. .
TKT's approach is always professional, polite and informative. The technician's advice to you will be based on their extensive industry experience and knowledge. You can truly relax and feel confident that your floor is in meticulous hands … and is about to be revealed in its true color – true beauty.
It's a great product services TKT concrete floor grinding proudly created for you.
Dedication and high technology make a difference
And with the goal of making concrete floor grinding service the key in its business, TKT attaches great importance to the creation of beautiful, high-quality concrete platforms. We understand the importance of ensuring a concrete that is both beautiful and strong over time.
Contact
---
Phone: ☎️ 09.38.17.22.94 or 📞 028.66.30.930 or 📞 028.66.830.931;
Email: info@tktg.vn
---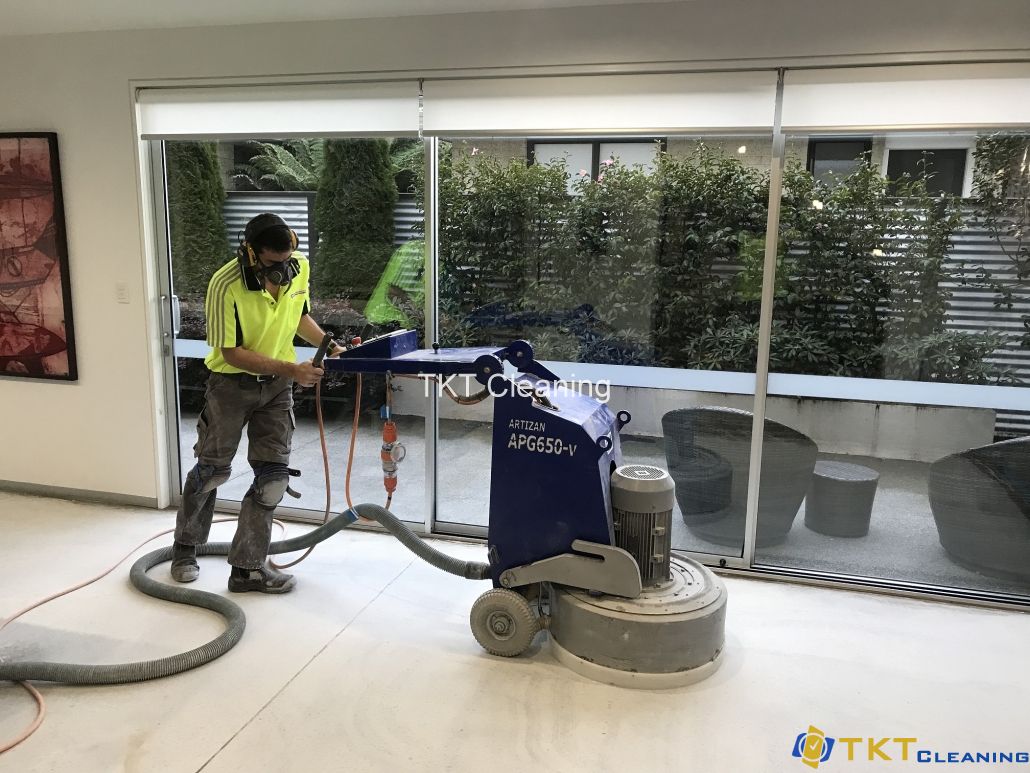 2. What is decorative concrete floor?
From bland to beautiful.
Who would have thought that concrete in its natural or redesigned form had such a wide range of colors, differences, and textures that have never been seen before? Like a gem submerged in water to reveal the depth of color, so polished concrete floors have its own vitality when treated with TKT's Concrete Grinder.
Ideal for home, hotel, retail or office, decorative polished concrete is the floor of the future. They look really sexy in an instant with versatility and contemporary style. In addition decorative concrete floors are suitable for any design for any purpose.
For new concrete installations, the addition of aggregate or cutting glass gives a whole new decorative appearance.
For existing concrete floors, deeply grind the concrete floor to reveal existing aggregate (mi stone). Your floors can then be colored to match your decor and furnishings style. Truly wonderful, right?
Not only is it highly aesthetically pleasing, your decorative glossy concrete floor is also difficult to wear and easy to clean and maintain. The cost effectiveness is very much due to the long lasting durability and timeless elegance of the floor you'll see you throughout the next century. The results that TKT will bring to you::
Color
Flashiness
Contemporary style.
Advanced charm on purpose
Contact
---
Phone: ☎️ 09.38.17.22.94 or 📞 028.66.30.930 or 📞 028.66.830.931;
Email: info@tktg.vn
---
3. Grinding the concrete floor removes glue and paint
Let's go away glue!
When you think about any surface to be treated, you should make it as clean and smooth as possible. That is all part of the preparatory work that has to be done (no matter how hard the thought is) to ensure the ease and efficiency of the next step.
The same goes for your polished concrete floor. Concrete floor grinding service of TKT is committed to providing your dreamlike concrete floor – but conditions come.
Those conditions include the optimization of floor acceptability for fine grinding and polishing. And that means removing carpet or tile adhesives and paint, creating a bare, spotless surface, conducive to further treatment.
TKT is very happy to do it for you. Because floor polishing is only effective starting on pristine surfaces. We have enough equipment to start cleaning your floors.
Your floors will look good after sharpening to:
Remove glue
Remove paint
Surface Cleaning.
The floor will return to its original state.
Contact
---
Phone: ☎️ 09.38.17.22.94 or 📞 028.66.30.930 or 📞 028.66.830.931;
Email: info@tktg.vn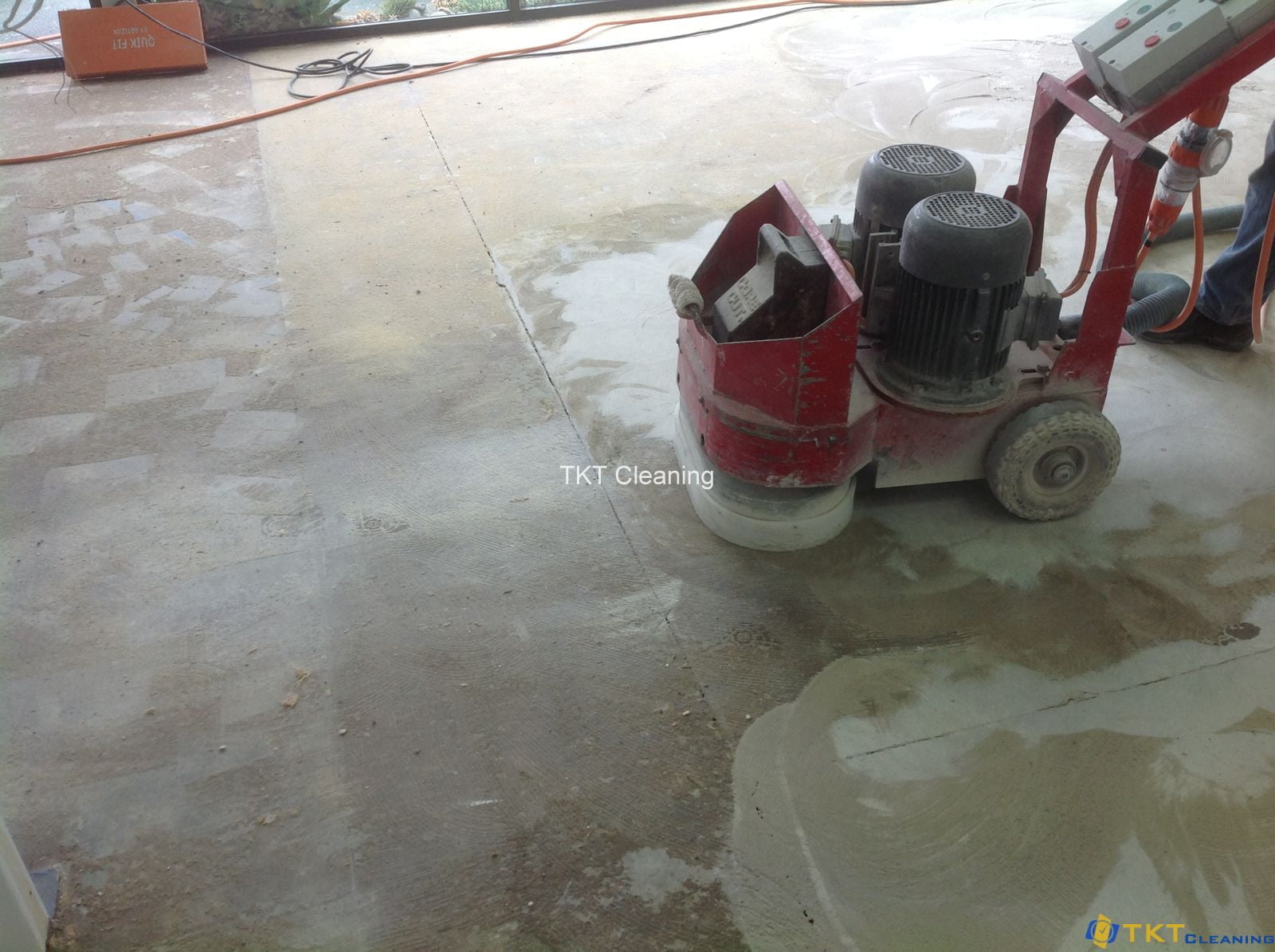 ---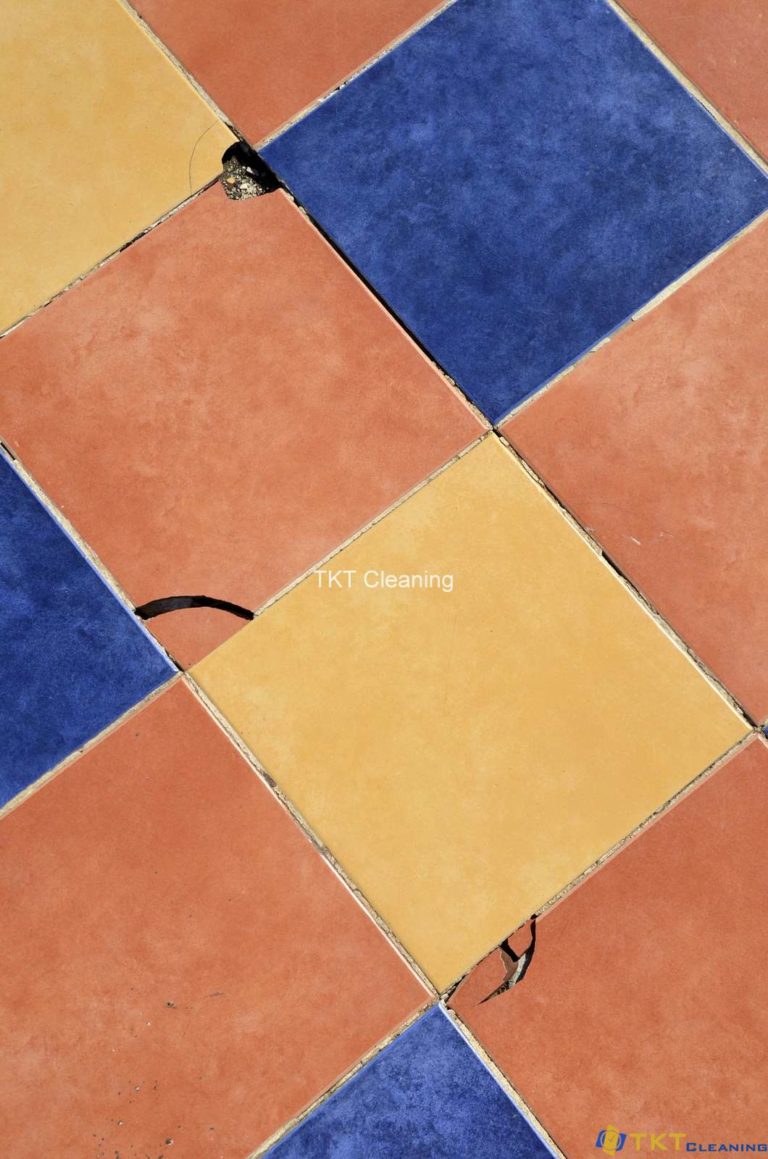 4. Removing ceramic and vinyl flooring
Prepare the floor for a new look
Look to TKT with the service of grinding concrete floors to prepare for the finished floor.
Or when you need to get rid of an old floor system out of brick, carpet or vinyl, lifting and removing the coating and leftover remnants can be a challenge.
TKT is expert at this with high-tech equipment and solutions, which then removes colloidal residue through the grinding process.
The result: a clean, spotless surface ready and waiting for the next step is what you will get from a professional concrete floor grinding service
TKT wants to give you a floor of life; one that is durable, glossy and inspirational… look no further than us to find your favorite.
Remove vinyl floors
Remove tile floors
Surface preparation.
Contact
---
Phone: ☎️ 09.38.17.22.94 or 📞 028.66.30.930 or 📞 028.66.830.931;
Email: info@tktg.
---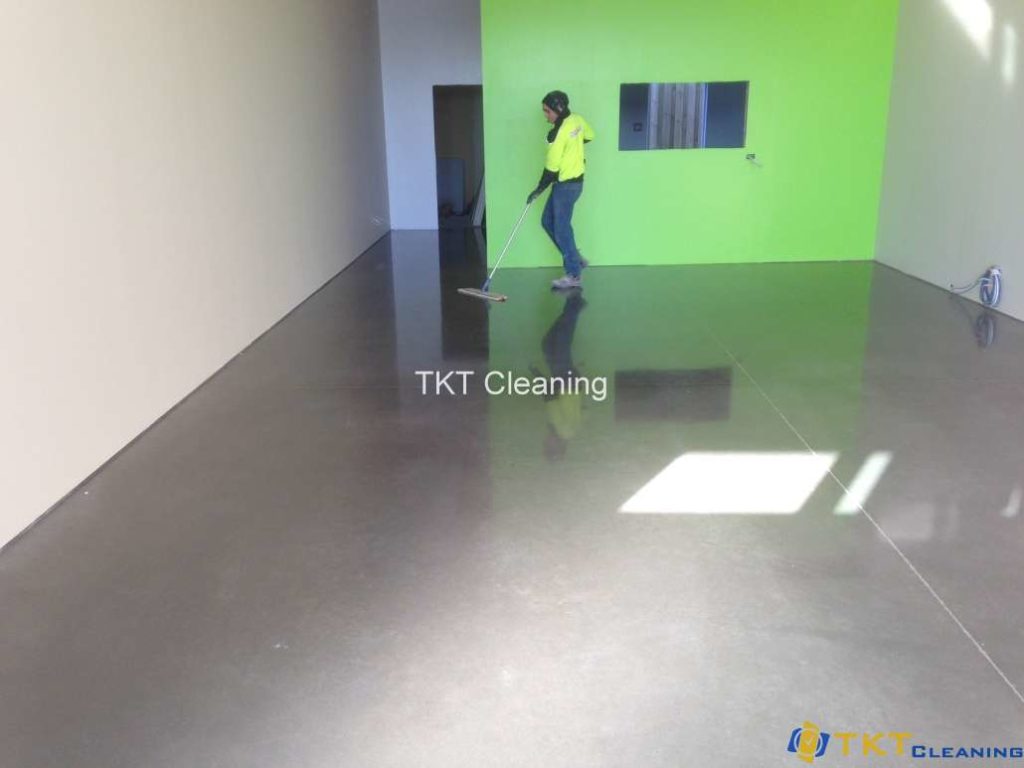 5. Grinding concrete rough, fine
Putting the system in place.
Like any successful molting, your concrete requires a number of grinding steps before the polishing can begin. TKT are specialists who prepare your floor for the best shape and this stage is called roughing, grinding rough concrete floors.
Grinding your floor with our state of the art machinery is important to smooth out roughness and create a uniform surface that is then in the best condition to take the next step.
Grinding literally means using an abrasive to "exfoliate" the surface of your floor. It's a bit like sanding paper (you often see at home polishing wood, or scrubbing metal rust) but on a much heavier scale. TKT uses a high-tech diamond disc grinding tool to smooth and fine-tune the surface. The coarseness of the particles in the grinding disc used depends on the existing condition of the floor as well as the hardness of the concrete mixture.
We will advise you on how polished concrete will be, even retaining and highlighting existing imperfections (increasingly common to allow personalization of your floors). .
It is a complex process but one that lays the foundation for the ultimate success of concrete foundations. You can trust TKT Cleaning to do this key job to prepare the perfect floor for the polishing and finishing of cement (concrete) floors.
Coarse grinding with diamond disc metal bond
Finishing with diamond grinding discs plastic, copper or porcelain bond
Exposed stone
Beautiful floor or not comes from rough grinding and fine grinding or not!
Contact
---
Phone: ☎️ 09.38.17.22.94 or 📞 028.66.30.930 or 📞 028.66.830.931;
Email: info@tktg.
---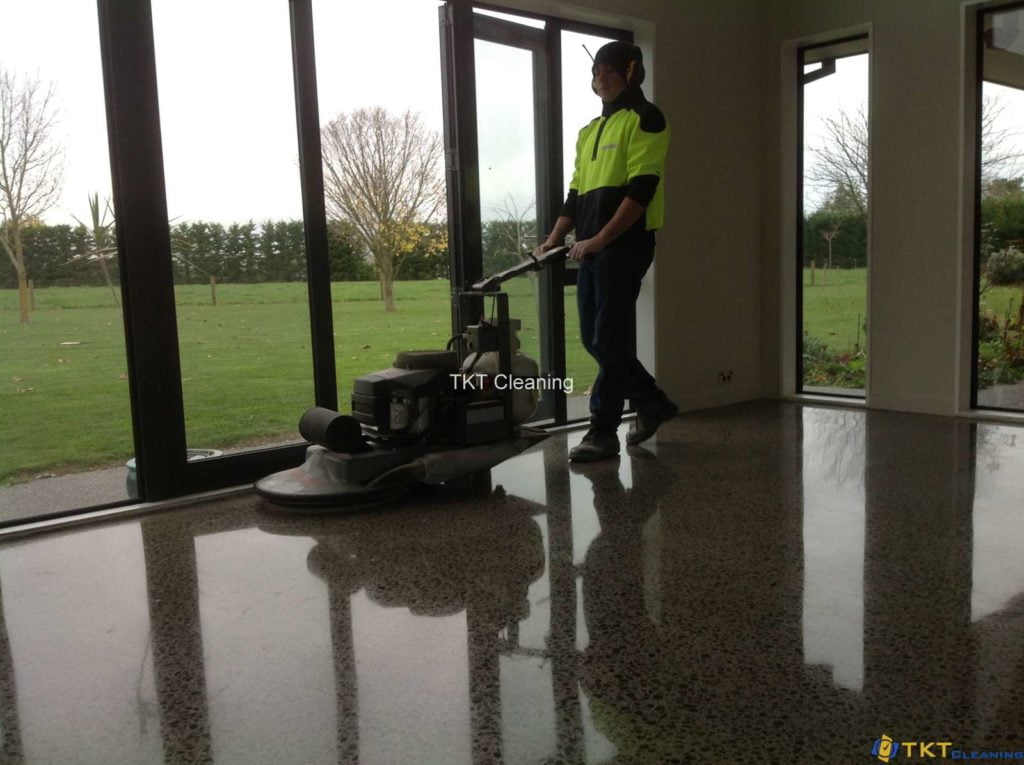 6. Polishing and sealing
Floor has been polished and ready for operation.
A concrete floor is only shiny and good if you do it well at all stages: pouring the floor, preparing the floor, roughing, grinding. The last step is polishing and polishing (finishing coating, protection, gloss enhancement, waterproofing …).
Process of polishing concrete floor
The concrete grinder machine plays a very important role in this process. Improper use of protective coatings can allow moisture to enter, damaging the surface and functionality of the floor. Make you spend money maintaining the beauty of concrete floors in the future.
The polishing process uses high-grade diamond grinding discs to increase the hardness of the floor, resist dust and thicken the surface. We then apply a micro stain repellent to ensure the floor is airtight, dustproof, scratch resistant, and durable.
Your freshly ground floor cover and finish protects it from corrosion, creating a barrier against moisture and preventing surface damage and stains.
Coatings help protect the textures, patterns and characteristics of concrete floors, as well as provide additional durability to floors
If you can compare porous concrete to a sponge, you will understand the importance of using professional chemical coatings. That TKT Cleaning was happy to explain about the products we use and the effectiveness of our concrete floor grinding processes.
Protect
Waterproof
Reduce maintenance costs
Contact
---
Phone: ☎️ 09.38.17.22.94 or 📞 028.66.30.930 or 📞 028.66.830.931;
Email: info@tktg.
---
7. Repair cracks
You don't want a crack in your mirror-coated concrete floor.
Sometimes the polished concrete floor looks perfect. But really, they're not perfect. Needle holes, cracks, cut holes, and debris sometimes appear, for many different reasons.
Your floor will need maintenance with TKT 's concrete floor maintenance service. We are like the "skilled surgeon" when it comes to "re-stitching your concrete floor" and can correct it in the right time to prevent further deterioration from affecting high gloss.
You should fix things up sooner than later to keep your floors looking perfect. Prestigious concrete floor grinding service TKT will help you:
Quick diagnosis of cracks
Increased lifespan for the floor
Contact
---
Phone: ☎️ 09.38.17.22.94 or 📞 028.66.30.930 or 📞 028.66.830.931;
Email: info@tktg.
---
8. Concrete floor grinding works for reference
---
9. Customers talk about us
TKT's concrete floor grinding service has helped my house have a classic, modern and very beautiful floor. Interior decoration is very easy. The floor is flat, shiny and very cool. ⭐⭐⭐⭐⭐

Ms Lan, Imperial Apartment Thu Duc City, Ho Chi Minh City
Our Q1 office removed the carpet to restore the concrete floor during the last Covid-19 office closing season. After going back and forth, we were completely surprised with the new concrete floor. Really impressive. ⭐⭐⭐⭐⭐

Anh Minh, T-art company, District 1, Cho Chi Minh City
Due to the pursuit of Buddhism, I want my villas to have the original cement-gray background. We knew TKT Cleaning through a friend. They consulted and polished my villa's concrete floor which is really beautiful and mysterious.⭐⭐⭐⭐⭐

Anh Chi, Phuc An Villa District 7, Ho Chi Minh City
---
10. Free advice
---
11. Quotation of concrete floor grinding service
The price of grinding services for concrete floors depends heavily on finishing requirements, including:
The degree of exposing aggregate to the concrete floor (from 1 – 4)
Degree of polishing concrete floor (from 1 – 4)
Floor grinding area
Construction conditions, and other requirements.
The price of grinding concrete floor is for reference
Reference price applies to exposed stone level 4, level 4 gloss
150,000 đ/m2 apply for 100 m2
140,000 đ/m2 apply for 300 m2
130,000 đ/m2 apply for 500 m2
120,000 đ/m2 apply for 1,000 m2
110,000 đ/m2 apply for 2,000 m2
100,000 đ/m2 apply for 4,000 m2
90,000 đ/m2 apply for 8,000 m2
80,000 đ/m2 apply for more than 10,000 m2
Promotion program on grinding concrete floor to thank customers
⭐ Sales off 5%

For First Time
⭐⭐ Sales off 10%

For Second Times
And many promotions and events are updated monthly at Fanpage, Gmappage and Landingpage of TKT Cleaning. Don't miss out here:
12. Video about grinding concrete floors
Video grinding services for concrete floors for factories and offices of TKT Cleaning
12.1.
Polishing Process Concrete Floor
12.2. Make aggregate appearing
---
12.3.
Filling the floor hole, concrete foundation before polishing
12.4. Concrete floor grinding and finishing polishing
---

028.66.830.930
TKT Company®
Office: 161 Ung Van Khiem Street, Ward 25, Binh Thanh District, Ho Chi Minh City, Vietnam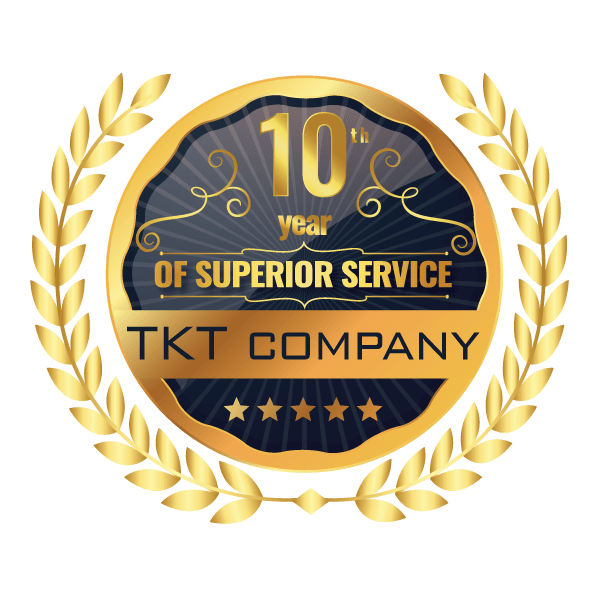 Website: https://tktg.vn/en/