💥 Concrete Floor Polishing Service, High Technology and Best in Ho Chi Minh City, Binh Duong, Dong Nai, Long An… in 2020 ✅ Professional services ✅ Specific chemicals ✅ New processes ✅ Glossy concrete surface as beautiful as a mirror 💥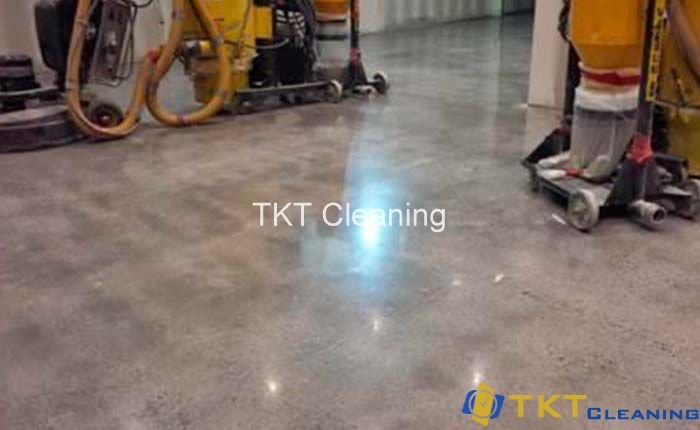 1. What is concrete, cement floor and where is it applied?
💡 Maybe you are familiar with many types of stone floors such as Marble, Granite, Terrazzo, Ceramic Tiles… but there is one type of floor you only often see in car basements, factories, supermarkets … that is the polished concrete floor or called polished cement floor.
💦 Polished concrete or cement floors are floors with high stiffness usually of grade 300 M (or 28.90 Mpa according to TCVN 3105: 1993 or conversion of B22.5 durability according to TCVN 5574: 2012, or C25 / 30 according to European Standard EC2) and above are suitable for polishing. Floors are made of cement, sand, aggregates (there are many different sizes 1×2, 4×6, 2×4… mm)
💡 The Facts: This is an example of 250 M, 300 M concrete floors commonly found in households. Grading norms for grade 250 M and 300 M grade concrete using PC40 cement according to the ratio: (Stone 1 × 2: yellow sand: cement: water) = (m3: m3: kg: liter).
Concrete grade 250 M: (0.85: 0.466: 324: 185).
Concrete with grade 300 M: (0.84: 0.450: 370: 185)
💡 The higher the grade is, the better the concrete will be polished 💡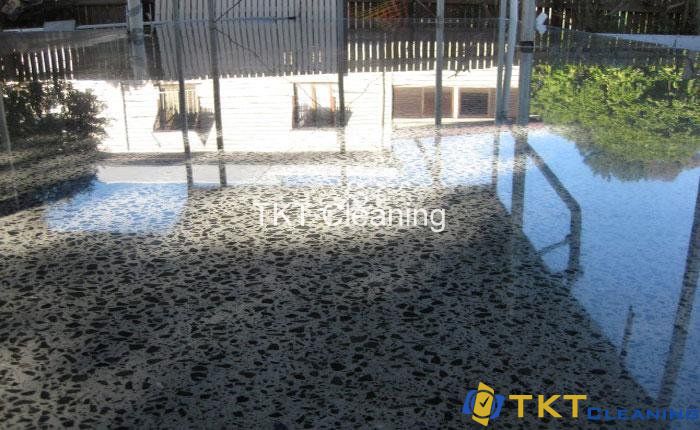 💦 Polished concrete has become the ideal finishing layer for many buildings, including retail, restaurants, showroom floors, manufacturing, garages and interior furnishings due to low maintenance, durability and durability. High anti-fouling ability. Polished concrete is also relatively inexpensive and can be stylish in new, contemporary designs. With many new colors you can choose.
💦 When you consider the cost of maintenance and maintenance, polishing concrete floors is the most effective floor solution. It is much cheaper than polishing Marble, Granite, Terrazzo, or comparing new replacement with ceramic tile floor.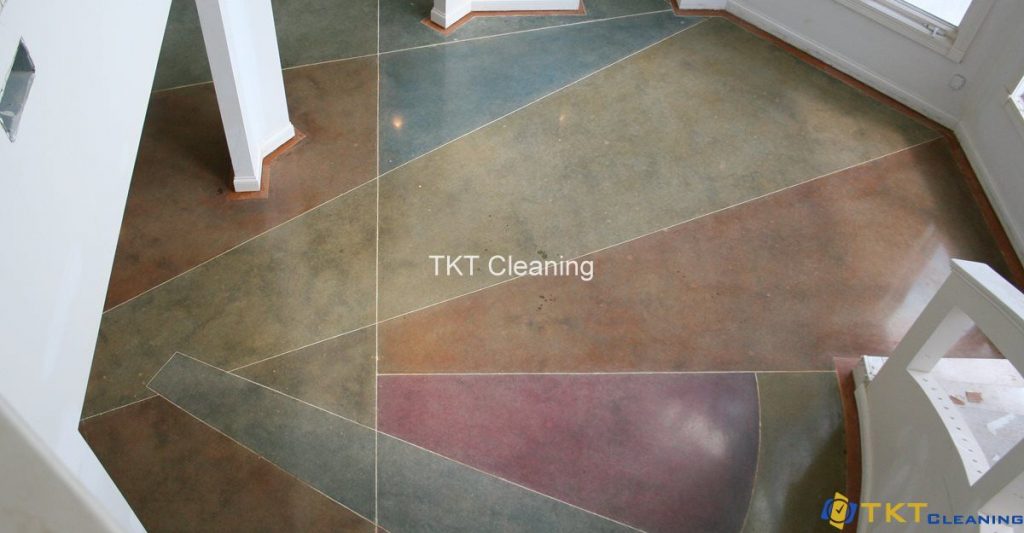 💦 The company specializes in the griding and polishing of concrete floors that can turn dull gray floors into works of art with many interesting colors, patterns, logos on the floor.
💦 After polishing the concrete surface, they will be shiny, bright, reflecting the light beautifully
💦 Polished concrete is suitable for a wide range of constructions including, but not limited to:
Residential area
Kitchen
Bathroom
Garage
Driveway
Patio
Swimming pool and outdoor area
Shopping mall floor
Workshop floor and warehouse
Business display floor
Restaurants, cafes and bars
Food preparation area
Child care center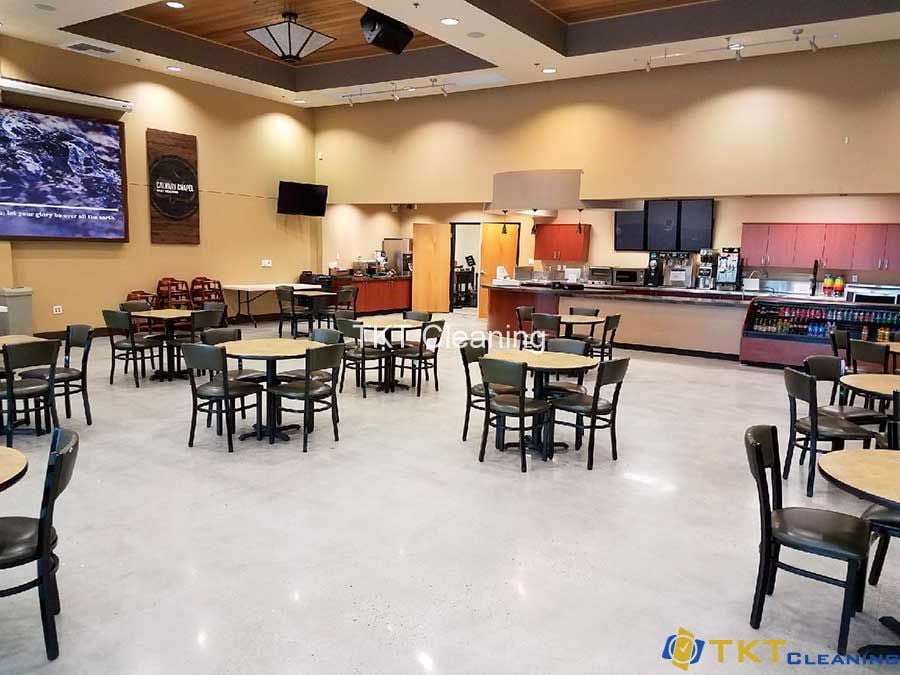 ---
2. Why should we grind and polish cement and concrete floors?
💦 Why should polished concrete and cement floor? That is the most frequently asked question. Many customers have concrete floors, cement has been rubbed, do you need to polish or not? The following are reasons always to have grinding and polishing cement floor.
Renovate bad floor, not flat, bumpy.
Increasing the hardness of the floor with modern hardening chemicals, new technology, making the floor harder, more beautiful and beautiful.
Dust-proof, waterproof much better than when left rough
Create luxurious and modern gloss, increase light, reflectance on the floor.
Go ron for concrete floors to create a uniform block.
Waterproofing to protect the surface of concrete and cement floors if necessary
Or grinding concrete floor to create flat, slightly rough to paint Epoxy for factories, super car, parking area…
💦 That is the main reason why one has to grind a flat concrete floor and then finish polishing to increase the aesthetics and durability of the floor at an inexpensive price. So I need to hire a service polishing concrete floor where?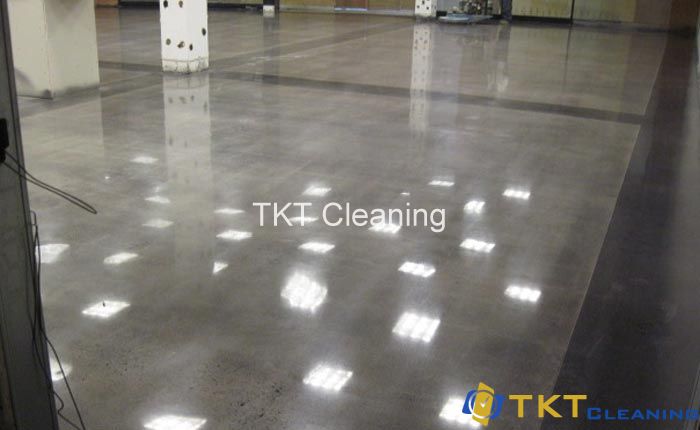 ---
3. Why choose TKT concrete floor polishing service
🔎 TKT is the leading service of grinding concrete floor, grinding wheel in Ho Chi Minh City, Binh Duong, Dong Nai, Long An, Vung Tau, Phan Thiet, Binh Thuan, Quy Nhon, Ben Tre, Bac Lieu, Ca Mau, Phu Quoc, Dong Thap, Ninh Thuan, Binh Phuoc, Tay Ninh …
💦 We are proud to offer you a wide selection of concrete polishing services that can meet all your specific needs. This service includes grinding, polishing, coating, coloring, waterproofing, anti-fouling … depending on your requirements.
Our service uses only the most advanced grinding and polishing machines.
All our projects are completed based on budget, within budget
There is no dust, so you can rest assured that after polishing concrete floors, the dust is best controlled, without affecting the surrounding equipment ..
We have a new generation art concrete research and production plant, so we know them very well. If you are interested in ready-made art concrete slabs, you can refer to: https://tktfactory.com/tong-quan-san-xuat-gach-da-terrazzo-nghe-thuat- trang-tri-hien-dai/
Latest polishing technology of concrete stone floor. Many gloss levels you can choose from, mirror shadows, ghosting.
Professional staff, dedicated to the job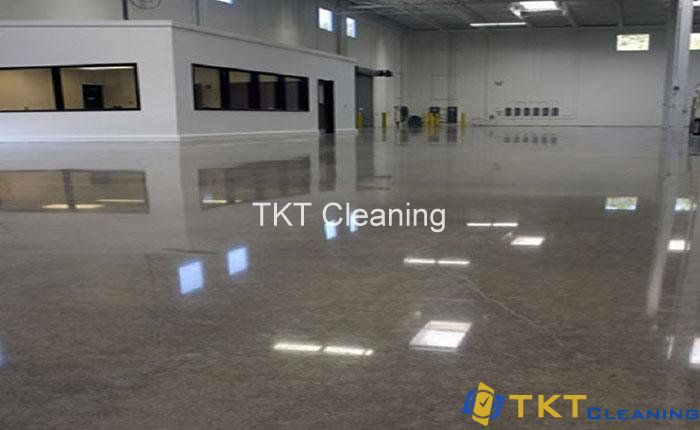 📝 Our services related to concrete floor polishing include
Grinding flat concrete floors (for Epoxy paint or other purposes)
Polish concrete floor every level
Glossy concrete floor
Harden the floor
Concrete mortar and Crack sealed
Repair crack
Anti-slip coating and concrete protection stains
Decorative concrete paint
Providing modern high-quality slabs of concrete for interior walling, walls and floors.
💡 Maybe you do not know: TKT Factory, a member of TKT, is a leading high-quality concrete stone factory in Vietnam today. If you are interested in decorative concrete slab production, please see more at: https://tktfactory.com/tong-quan-san-xuat-da-be-tong/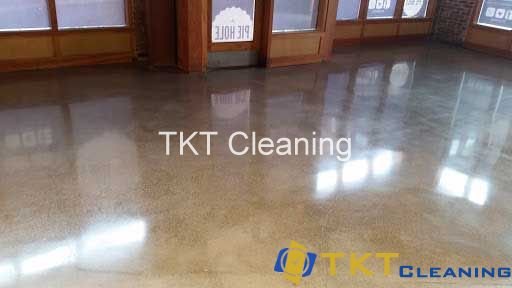 ---
4. What is equipment polish concrete floors?
TKT Cleaning is fully equipped with the most modern grinding and polishing equipment for concrete floors, including:
4.1. Types of industrial concrete grinding and polishing machines including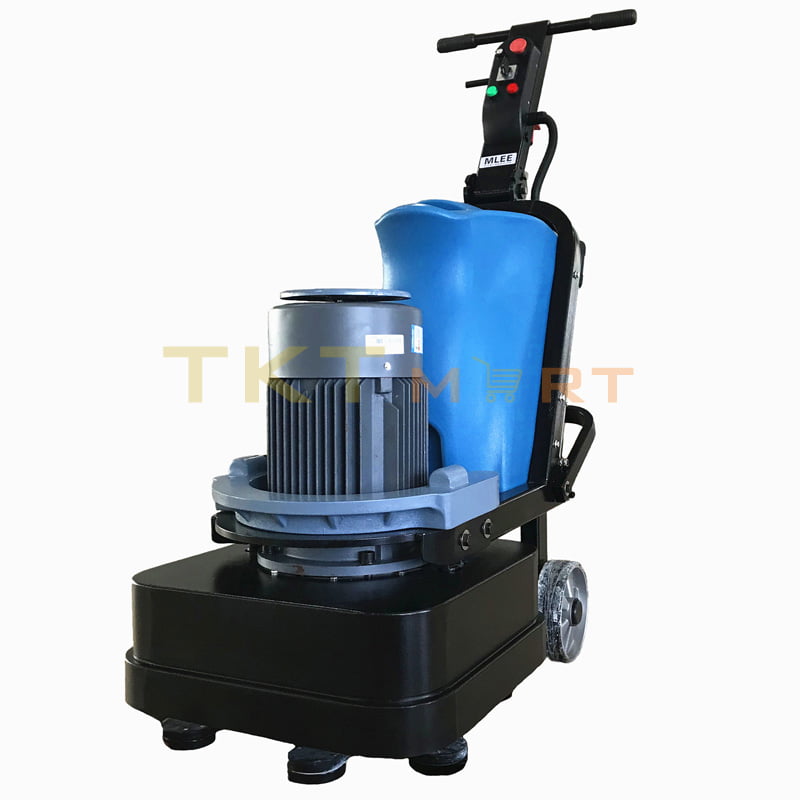 4.2. Types of vacuum cleaner used when polishing concrete floors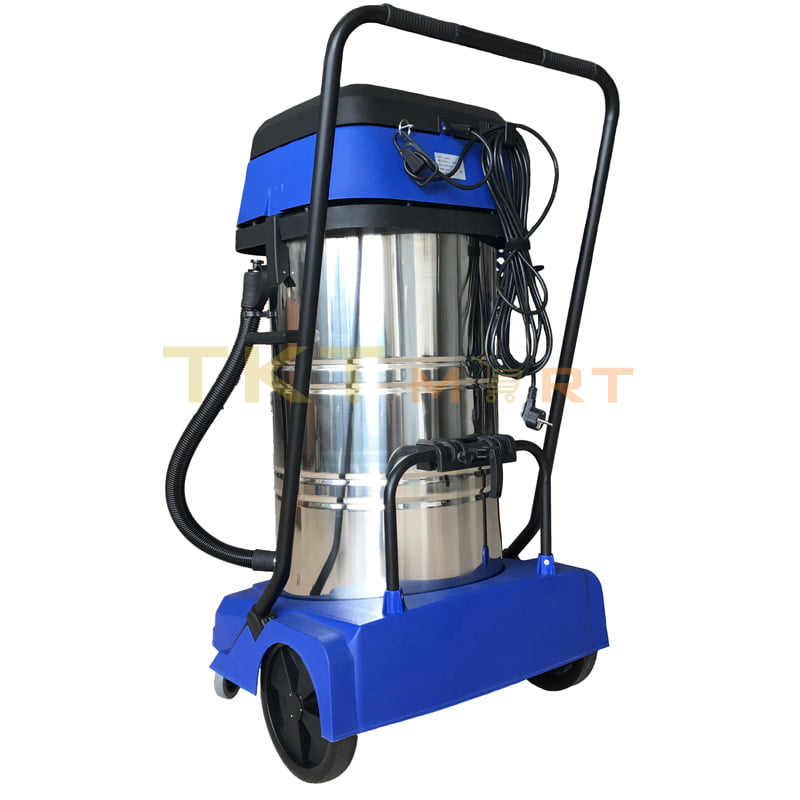 4.3 Types of grinding, polishing concrete discs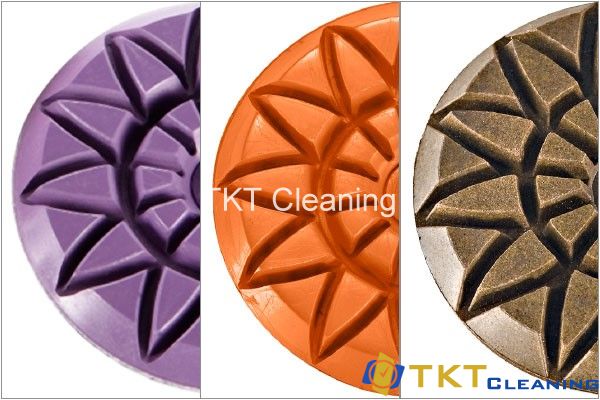 The process of grinding and polishing concrete uses a lot of different types of discs from Metal (# 6, 10, 16, 20,30,50), Diamond Grinding Discs (# 30, 50, 100, 200, 300 , 400, 500, 600, 700, 800), Polishing grinding discs (# 1000, 1200, 1500, 2000, 3000, 6000, 8000)

---
5. What is chemical hardening and polishing concrete?
💦 In the process of polishing concrete floors, hardening chemicals and polishing play an important role. They not only help the floor to reflect light well, mirror like, as there is water but also help the floor to increase hardness, wear resistance, reduce dust.
💦 TKT, Concrete Floor Polishing Service used hardness enhancer imported from USA, EU helps concrete surface increase 1-2 hardness on Mohs scale. They help reduce dust. You can see details about concrete hardening chemicals here: https://tktfactory.com/chat-tang-cung-san-be-tong-la-gi/
💦 In addition to the concrete hardener, gloss coaters help the polishing process to achieve faster results and a brighter floor surface. Plastic coating chemicals are imported from USA, EU to ensure the surface quality. You can see more at: https://tktfactory.com/hoa-chat-phu-bong-san-be-tong-la-gi-phan-loai/
At this point, you may have understood the hardening and glossing or sealer chemicals for concrete floors used by TKT Cleaning during construction.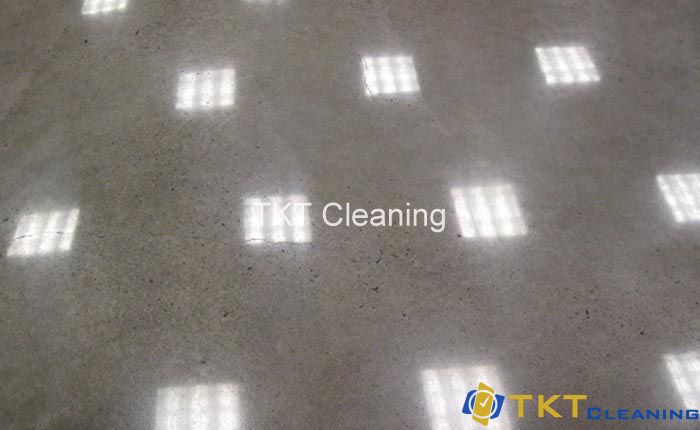 ---
6. Quotes grinding and polishing concrete floor service
📝 Price of concrete floor polishing service depends on what factors?
Total area, floors, walls, concrete stairs to be polished
The degree of curvature, warping, mo, burrs of the floor surface (i.e. the original flatness of the floor)
Progress and duration of floor grinding construction
The level of gloos needed
The level of aggregates appeared
---
💎 Price for polishing concrete floors with common areas you may be interested in: 💎
VND 92,000 / m2 applied to 100 m2
VND 87,000 / m2 applied to 300 m2
VND 86,000 / m2 applied to 500 m2
VND 85,000 / m2 applied to 1,000 m2
VND 84,000 / m2 applied to 2,000 m2
---
💲 Calculating Average Price of grinding, polishing concrete floor is estimated to be the cheapest from only VND 70,000 / m2 – 150,000 VND / m2 💲
---

---
💰 Promotions, grateful customers 💰
---
⭐ Discount 5%

For First Time Customers
⭐⭐ Discount 10%

For Second Time Customers
And many promotions, events are updated monthly at Fanpage, Gmappage, Youtube and Landing Page of TKT Cleaning. Do not miss here:

---
7. Frequently asked questions
❓ Question 1: Is polished concrete floor slippery?
💡 Anwser: Not much. Polished concrete floors may look as smooth and light as glass, but they are perfectly safe to walk when kept clean and dry. Moreover, they tend to be less slippery than polished marble, or ceramic floor. Currently there are many types of additives that help polished concrete floors reduce slippery to the maximum.
❓ Question 2: Is polishing concrete floor expensive?
💡 Anwser: Polished concrete usually costs VND 70,000 – VND 150,000 / m2. This puts it in the same frame as polished marble floor and is cheaper than the granite floor polishing fee. So you will not have to worry about the cost of polishing concrete floor
❓ Question 3: Can polish old concrete floor or not?
💡 Anwser: Almost any concrete floor, new or old, can be polished. But there are some exceptions. Wavy, needy, or extremely porous floors may not be a good candidate for polishing.
❓ Question 4: The process of polishing concrete floors like?
💡 Anwser: The process of polishing concrete floors is usually through 4 steps:
Step 1 – Rough grinding
Step 2: Harden
Step 3: Fine grinding
Step 4: Polishing to increase the gloss to the required level
❓ Question 5: How much is the service of grinding concrete floor?
💡 Anwser: To answer the question about the service of grinding concrete floor, it is necessary to specify: Level of stone exposure when grinding the floor (4 levels), Gloss Level of concrete floor (4 levels). After clarifying this problem, the price of floor grinding is accurate. However, you can refer to the price from 70,000 – 150,000 VND / m2 to make a cost estimate.
❓ Question 6: What kind of concrete surface finish are available?
💡 Anwser: Polishing agent for concrete surface is extremely diverse from original Epoxy, PU, Acrylic … But now in Vietnam and World of Acrylic origin easy to use and the cheapest are more popular.
❓ Question 7: Comparison between polishing concrete floor and floor paint with Epoxy?
💡 Anwser: Each method has different strengths and weaknesses. We will have an in-depth article on this topic. However, there is an inherent weakness of Epoxy concrete floor paint that is the peeling problem of Epoxy in the presence of water and high maintenance costs. That is why polished concrete floors are becoming more and more popular.
❓ Question 8: Advantages and disadvantages of polished concrete floor is what?
💡 Anwser: You can refer to the entire article about grinding concrete floor from A-Z. This is a type of floor currently trending with classic beauty, but with modern technology today, they have overcome many weaknesses, and have many strengths that are very useful and interesting.
❓ Question 9: The process of making concrete floor like?
💡 Anwser: The process of grinding concrete floor construction involves many steps from Pouring Concrete to Grinding Concrete Flooring. Can see the process of grinding concrete floor construction details here: https://tktfactory.com/thi-cong-da-mai-da-rua-tai-cong-trinh/
❓ Question 10: Which floor polishing service in HCMC is reputable and high quality?
💡 Anwser: TKT Cleaning is one of the companies specializing in polishing concrete floor in Ho Chi Minh City which is selected by many units thanks to its high quality and good response time.
❓ Question 11: What is Sika polishing concrete floor?
💡 Anwser: It is a cement-based aggregate and contains gravel granules that harden the surface of the concrete. Sika polishing concrete floor makes the concrete surface more beautiful, more glossy and has more colors Blue, Gray, Yellow to more diverse for polished concrete floor.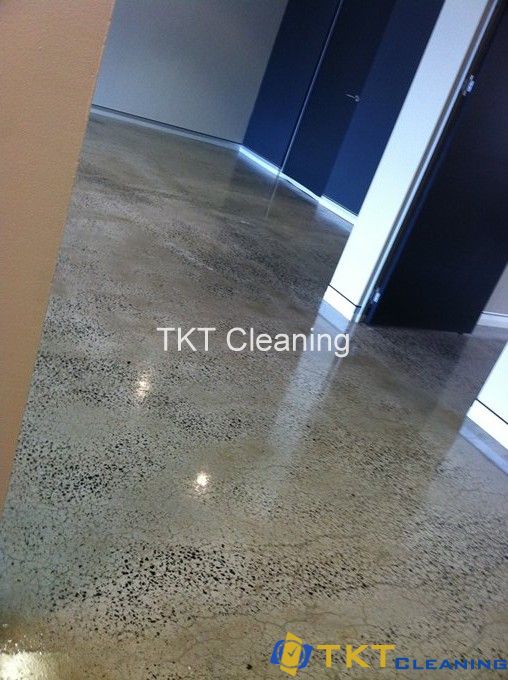 ---
8. Video grinding concrete floor
See more of our Video grinding and polishing concrete floor:
---
---
9. Customer evaluation of TKT Concrete Floor Polishing Service
Feel free to leave comments and assess the quality of service of TKT Cleaning, this is very helpful for us to serve you better.
❤️ Please leave a review ❤️
10. Request a Free consultation
Fill out the following consultation request form, we will call you back as soon as possible. 100% Free 👇👇👇👇
---

028.66.830.930
TKT Company®
Office: 161 Ung Van Khiem Street, Ward 25, Binh Thanh District, Ho Chi Minh City, Vietnam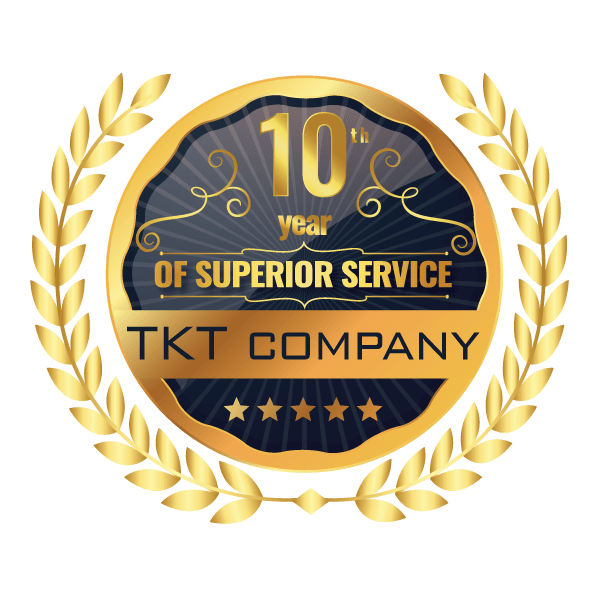 Website: https://tktg.vn/en/