📅 Updated the last article "Yacht, Boat cleaning service" on September 20, 2022 at TKT Company Location
🔥 TKT Cleaning is the only high-class carpet, ulphostery, chair, sofa, partition, curtains cleaning service for Yachts, Ships, Passenger Ships, Boats in Ho Chi Minh City and province near by Ben Tre, Dong Thap, Vung Tau, Tien Giang, Vinh Long, Kien Giang, Phu Quoc, Con Dao., Mekong Delta.. ✔️ Applying the most advanced carpet cleaning technologies ✔️ Environmentally and health-friendly ✔️ Modern methods to help deep clean carpets and regenerate old carpets 🔥
🔎 TKT Cleaning is a specialized carpet cleaning service for yachts at: Bach Dang Wharf in District 1, Station (temporary berth) Thao Dien District 2, Nha Rong Wharf in District 4, Saigon Port in District 4, Nha Be Station (temporary berth), Nha Be Station (temporary berth) at the foot of Thu Thiem bridge in Ho Chi Minh city (HCMC); or neighboring provinces Tien Giang, Ben Tre, Vinh Long…
1. What is the yacht carpet cleaning service?
💦 You may not know, on large boats, ships or luxury yachts, there are many different types of carpets such as floor carpets, hallway carpets, bedroom carpets, living room carpets, decorative rugs, carpets. Roll is made from many different materials such as wool carpet, synthetic fiber carpet, fleece carpet…
💦 These are all very sensitive and expensive carpets equipped on boats and yachts, so professional yacht carpet cleaning services are needed, with a methodical investment in equipment and chemicals to clean carpets. depth.
💦 Moreover, the carpets on the boat, or the yacht are very dirty due to not being washed for a long time, and the long-term damp condition leads to the carpet being easily discolored, discolored, dyed black. Therefore, the cleaning of yacht carpets always needs to be cleaned very carefully, many times with methods that do not damage carpet fibers.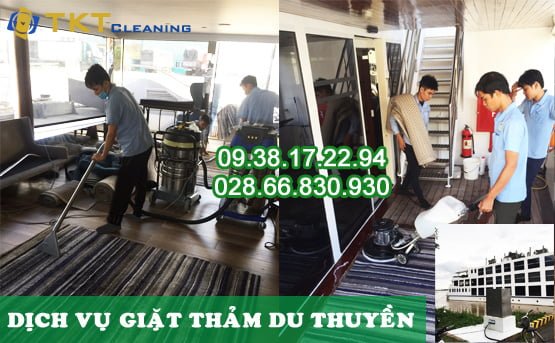 💦 A difficult problem when cleaning carpets on yachts, or passenger boats is that the space is extremely tight, it is difficult to deploy carpet cleaning services on yachts. Therefore, the application of industrial carpet cleaning equipment is quite difficult, sometimes it has to be handled by hand-held equipment, manual work is very laborious.
💦 With all the above difficult characteristics, when washing carpets on boats, it is necessary to have a professional and experienced carpet cleaning service.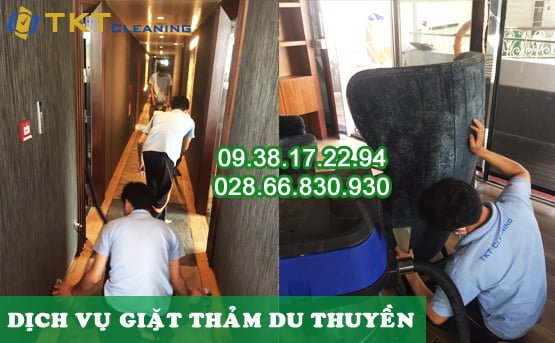 So, why is TKT Cleaning your choice when you need yacht carpet cleaning services? 👇👇👇👇

---
2. Why choose TKT Cleaning to clean carpets for boats?
💦 TKT Cleaning carpet cleaning service has cleaned carpets for many large boats and yachts, ships… pair of ports in Ho Chi Minh City, Ben Tre… that's because:
As the best carpet cleaning unit in Ho Chi Minh City in the fields of office carpet cleaning, restaurant carpet cleaning, hotels, boats, events…
10 Years of experience in the field of carpet cleaning and maintenance.
Invest in the most advanced equipment: carpet cleaning with hot water and hot steam spray methods.
Imported high-class carpet cleaning chemicals, biotech green chemicals are all applied to washing high-class yacht carpets.
Dedicated to carpet cleaning because that is the profession we choose.
Respond quickly to requests, don't be afraid to wash carpets in provinces far from Ho Chi Minh City.
Good English communication with customers, ship owners and service staff on ships and yachts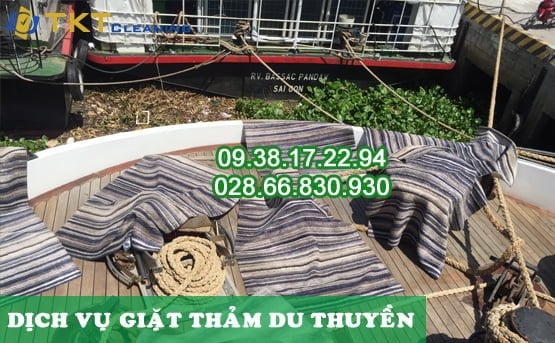 💦 Are you now trusted to contact TKT Cleaning's yacht carpet cleaning service?

---
3. Quotation for washing carpets for yachts
💦 Carpet cleaning prices on yachts and ships are often higher than office carpet cleaning prices because of the difficulties outlined in item 1.
💦 The price of carpet cleaning for yachts often depends on the degree of dirtiness of the carpet, the volume of work (m2), the type of carpet, the density of distribution on the ship, the boat, the travel distance from Ho Chi Minh City to the neighboring provinces. ….
3.1. The price of yacht carpet cleaning is as follows:
30,000 VND – 100,000 VND/m2 (if the area is large)
200,000 – 500,000 VND/plate (if the number of plates is large)
2,000,0000 – 20,000,000 VND (if the package is calculated)
Of course, the price of carpet cleaning on the yacht as above is for reference only. Please call us to clarify the details and extent required.
3.2. Many promotions, customer gratitude are waiting for you
And many promotions, events are updated monthly at Fanpage, Gmappage and Landingpage of TKT Cleaning. Don't miss the opportunity to receive the following discounts and gifts for loyal customers:
❤️ Fanpage: https://www.facebook.com/congtyvesinhtphcm/
❤️ Gmappage: https://g.page/congtyvesinhtphcm
❤️ Landingpage: https://tktg.vn/dich-vu-giat-tham/
See more about all the cleaning services provided by TKT Cleaning that you may be looking for.

---
4. Introducing TKT Cleaning's carpet cleaning video
Watch our Carpet Cleaning Videos to learn more about us.
4.1. 🎬 Video survey of ship and yacht hygiene
4.2. 🎬 Video of cleaning carpets, curtains, cushions, mattresses for cruise ships and yachts
4.3. 🎬 Video of hot steam carpet cleaning for Yachts and Boats to help disinfect
4.4. 🎬 Video of washing seats with hot steam technology for boats to help disinfect

---
5. Do you need free call back to advise
Please don't hesitate to contact us to get free call back and sincere advice.

028.66.830.930
TKT Company®
Office: 161 Ung Van Khiem Street, Ward 25, Binh Thanh District, Ho Chi Minh City, Vietnam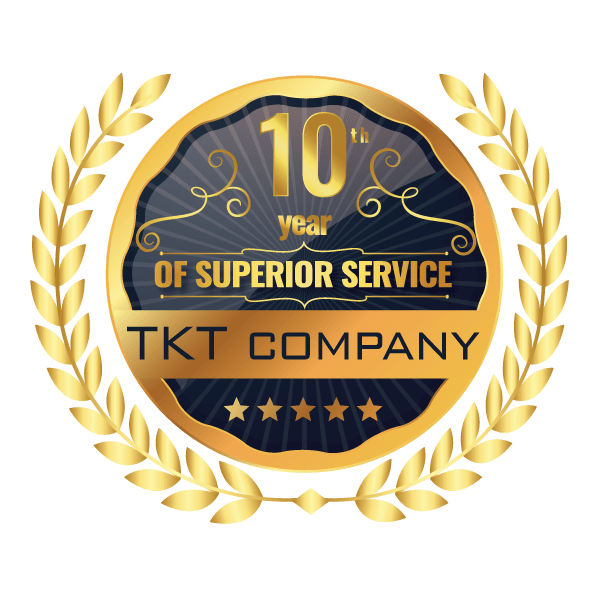 Website: https://tktg.vn/en/